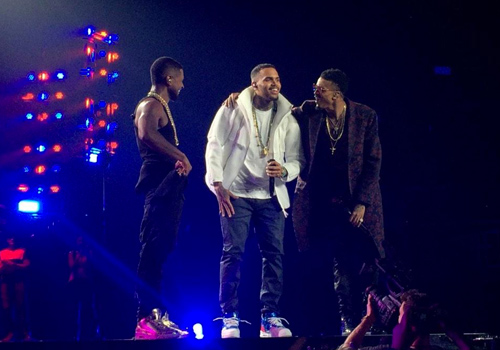 The stars all aligned when Usher's "UR Experience" pulled into the Los Angeles Staples Center on Friday night. After bringing out Trey Songz in Chicago, the R&B superstar had some big surprises for the L.A. audience, as he brought out his R&B brothers Chris Brown, Jeremih, and August Alsina.
Kid Ink was up first, hitting the stage for their collaboration "Body Language" before Jeremih turned up on the remix to DJ Khaled's "Hold You Down" and his own top 10 hit "Don't Tell 'Em."
After opening for Usher earlier in the evening, August returned for "I Luv This Shit" with a surprise appearance from Chris Brown, who was greeted with roaring applause. Breezy then delved into "Loyal" while August captured the moment on his iPhone.
"Breezy, I don't think they're ready to turn all the way up," said Usher before the two launched into their X hit "New Flame." They wowed with their slick moves, and Usher showed off his abs, before hugging it out.
Watch the moment of R&B brotherhood below!
[via Rap-Up]