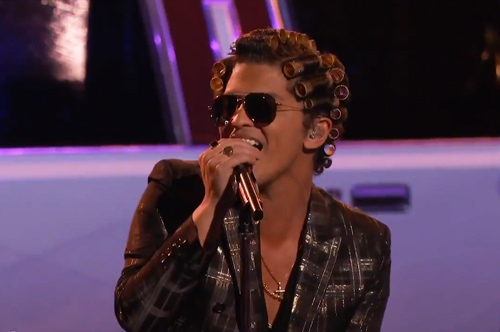 Tuesday night's finale of "The Voice" showed up and showed out!
Sporting gold rollers, large shades and an impressive gold suit, Bruno Mars and Mark Ronson had the crowd on their feet with a live performance of their Top 5 hit, "Uptown Funk"! Taking the audience to another level as they glided across the stage with their moves, the sharply dressed men gave judges Pharrell, Gwen Stefani, Adam Levine, and Blake Shelton something to rock out to.
While Bruno and Mark were busy funk'n the crowd up, Jennifer Hudson grabbed one of the contestants, Damien, and gave the crowd everything they wanted with a performance of the single, "It's Your World". Strutting the stage in a black mini-dress, the superb vocalist laid it all out and proved just why she's one of the most talented stars that arrived from television.
Between J.Hud, Bruno, and Mark, there was so much funk in the building that we almost forgot what we were watching. Catch a glimpse at the spectacle below!