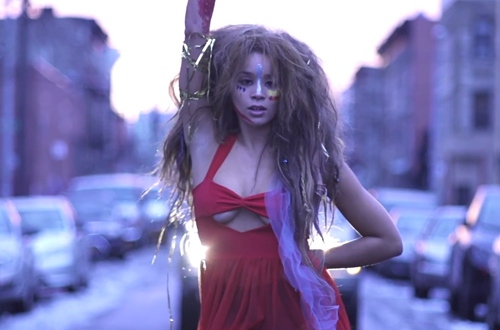 New and unique, New York duo LION BABE, made up of singer/songwriter Jillian Hervey and instrumentalist and producer Lucas Goodman, have released their highly anticipated debut LION BABE EP – and to mark its release the band have unveiled a performance art style visual for their second single "Jungle Lady."
The sensual song is packed with soul and passion which LION BABE songstress Jillian describes as celebrating 'love, fantasy and longing' – inspiring its visually arresting and sexy video, which was directed by the band and shot on the streets of New York.
Written and produced by Hervey and Goodman, their debut EP is a sublime collection of tracks, led by the intoxicating "Jump Hi" featuring hip-hop artist Childish Gambino, which has become and underground hit. It showcases their desire for fearlessly reworking and reinventing the familiar, combining it with their love of fantasy and the surreal, to make their own unique pieces of art; a new kind of soul.
Watch the new video and stream their debut EP below!