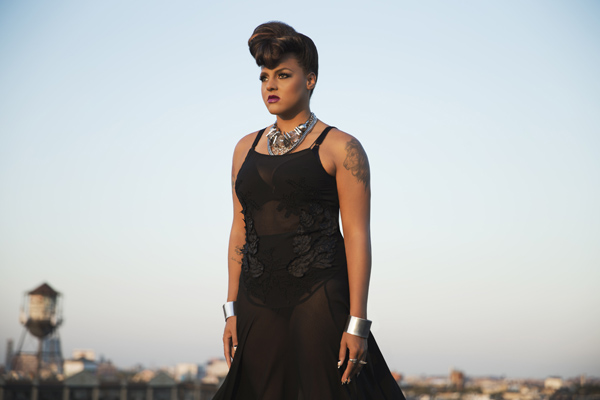 Marsha Ambrosius completely shocked the ish outta fans during her show at The Claphand Grand in London the week prior to Christmas, when she closed the show by bringing out her ex-partner in Floetry (Natalie Stewart aka The Floacist) for their first performance in 9 years.
The moment was very special for those in attendance and exciting for fans of the duo who had previously broken up on negative terms. So, the question everyone was then asking, is there a full on reunion in the works? Following her set that night, Marsha sat down for an interview with Sope Soetan of YourMusicMyWorld and shared some details on the surprise reunion, as well as potential plans for more.
In addition to talking about Floetry's future, Marsha spoke about remaining relevant in today's music, R&B specifically, and her thoughts on the current success of UK stars such as Sam Smith and Adele.
Hear about it all below:
On the surprise reunion performance: Being on that stage tonight again with Natalie, reintroducing Floetry possibly to people who only knew as me as Marsha Ambrosius the solo artist just made sense. It's just time, Nat and myself today was the first time we had seen each other in 8 years. 9 years since a Floetry show but as you see on stage, we don't miss a beat and you don't forget. Even rehearsing it today, we were laughing at eachother because we were kids when we did this shit the first time. So why wouldn't we do this shit again, why wouldn't we give this back to our fans – it's cheating them.
On potential reunion tour or album: There's a basic potential for a bunch of things. I'm all about sustaining legends and we have Floetry at our disposal, we just have to continue to prove points on being the underdog, being the people that pioneered and paved the way for the UK. I think its perfect time for us to do it now, we're both grown, we've done things outside of eachother and it's just that much easier to come back and give back. But I will need a teleprompter for all these lyrics that I don't know anymore *laughs*. So who knows we'll see.
On today's R&B relevancy and UK stars: Fortunately for me I've become one of these unicorns that paved the way for said Sam Smith's and Adele's to create a UK import of Soul. Let Jessie J tell it or all these other artists that were admirers of what Floetry did from the UK to overseas. Natasha Bedingfield and these other people will still make reference to what was done, that can't be taken away, so with me making myself relevant – I don't need to. People reference my songwriting and my style, if you ever hear a certain song and someone says "that sounds like some Marsha shit" that means I've done my job, someone is trying to imitate and mimic what I did 10, 15 years ago. I'm going to continue to do different things and become the Quincy Jones I set out to be a long time ago.
Read the full interview here.