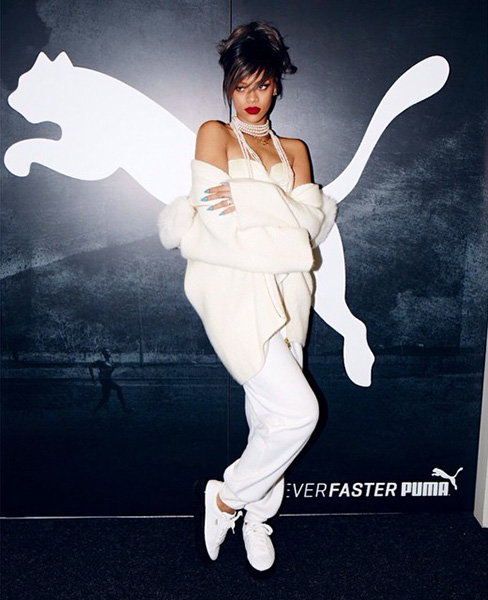 That Rihanna reign really isn't planning to let up anytime soon…
While fans of the singer are becoming antsy over the anticipation for her upcoming album, aptly hashtagged as #R8, the Navy can now add another accomplishment to the their favorite singers totem pole.
After the celebration of her successful inaugural Diamond Ball last week, rumors begin to swirl that the green-eyed beauty would be signing a deal with Puma to move them in the right direction. Although Miss Fenty remained very hush on details, it has been announced today that she has officially signed on as Creative Director for the long-time brand.
Set to oversee the women's wear line, Rihanna will join the likes of famous sportsmen Usain Bolt and Mario Balotelli as a brand ambassador. Already having many brand collaborations under her belt (MAC, River Island, Balmain, Giorgio Armani, and Gucci), the "multi-year partnership" will see the 26-year-old singer work on Puma's fitness and training apparel as well as shoes.
"Signing Rihanna is a fantastic step for Puma. Her global profile, her charisma and individuality, her ambition – all these things make her a perfect ambassador for our brand. With a strong portfolio in football, running and motorsport, finding an inspiring partner for women's training was very important. Rihanna was a natural choice for us. We're delighted to have her as a partner, and we're looking forward to what's to come," Bjørn Gulden, Puma's chief executive officer, said in a statement.
With such a successful 2014 and domination of 2015 underway, fans should be more eager than ever to see what musical creation she'll deliver with her coming album.
Take a look at a few of the shots from her trip to Germany to sign with Puma below!
[via VogueUK]