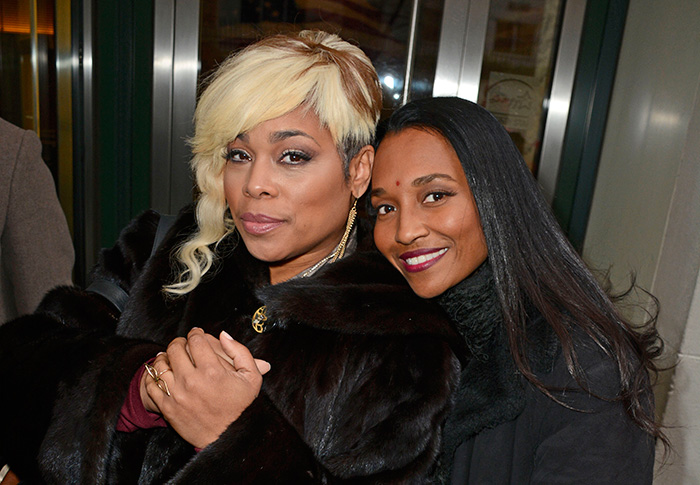 TLC has made groundbreaking history thanks to their fans support. In less than a week, the legendary girl group has raised over $200,000 as part of their Kickstarter campaign.
After launching the fundraiser on Monday (Jan. 19), T-Boz and Chilli surpassed their initial goal of $150,000. The funds will go towards the recording of their fifth and final album.
As of Friday, they had amassed over $205,000, and they still have 26 days to go. In return for their donations, fans will receive perks including a TLC digital scrapbook, autographed lyrics, photo shoot, and listening party.
Thank you SO MUCH to everyone who donated to our campaign!! Xx We are thrilled to have so much love and support from fans! It means so much!

— TLC (@OfficialTLC) January 22, 2015
Various celebrities have also supported their campaign including Soulja Boy, Russell Simmons, and Bette Midler. New Kids on the Block pitched in $20,000, and Katy Perry earned herself a slumber party with T-Boz by donating $5,000.
"Our hearts are overflowing with gratitude for our fans for all of their amazing support. We feel so blessed to know that not only do our fans love us, but they believe in us," the group told PEOPLE. "We have received support from longtime listeners that attended our first concerts, plus new fans who have only just started listening. We were also so humbled by the outpour of support from other artists like Katy Perry, New Kids on the Block, Dev Hynes, Russell Simmons, Soulja Boy, Bette Midler, and more!"
The album, which will just consist of T-Boz and Chilli (Lisa "Left Eye" Lopes died in a 2002 car crash), will mark the first new material from the group since 2002's 3D. "Our final album will stay true to the TLC sound, always confronting the real issues and life experiences that we all must face every single day, everywhere," they told fans. "Of course, Lisa's spirit will always be present in our music. That will never change."
TLC will also join New Kids on the Block and Nelly on "The Main Event" tour this summer. You can help contribute to the campaign here.
(Photo by Derek Storm/Splash News)