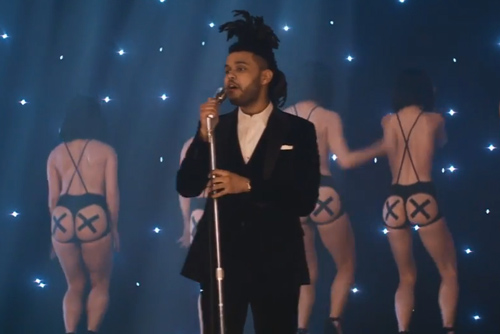 The Weeknd is back to seduce our screens with the premiere of the anticipated music video for his new song "Earned It." The sexy single, off the soundtrack to the upcoming film Fifty Shades of Grey, has been climbing the charts and landed his highest debut at No. 15 on the Billboard Hot R&B/Hip-Hop Songs chart.
The visual, directed by the films director Sam Taylor-Johnson, showcases the same seductive tone of the film. The Canadian singer dons a suit, singing on a Broadway like stage, while scantily clad women are dancing in unison around him.
"I feel like the film and my music is a match made in heaven," he said. "If you listen to my album, even the past work I've done, it's very Fifty Shades of Grey."
The film's soundtrack hits stores on February 10, in addition to "Earned It," The Weeknd has a second song on the OST titled "Where You Belong" produced by Mike Dean.
Peep the seductive NSFW video below!