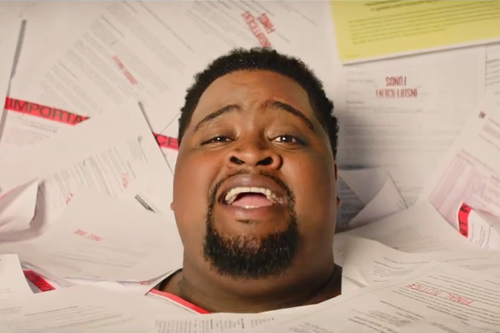 Having to pay bills never felt so good!
Emerging artist LunchMoney Lewis makes his official debut on the scene with the playful music video for his catchy single "Bills."  The Florida native has been making a name for himself as a songwriter within the industry, many first heard his name featured on Nicki Minaj's track "Trini Dem Girls," off her latest album The Pinkprint.
Currently signed to multi-platinum producer Dr. Luke, LunchMoney won't have to worry about all of his bills for much longer as his song is already climbing the radio charts. Showcasing his larger than life personality to match his large physique, the singer/rapper plays multiple roles in the comical visual, while singing about his many monthly responsibilities.
"I got bills, I got to pay / So I'm gon' work work work everyday / I got mouths, I got to feed / So I'm gon' make sure everybody eats," he sings.
Lunch also comes from a musical family, his father and uncle are part of the legendary reggae group Inner Circle.
Check out the fun-filled video below!