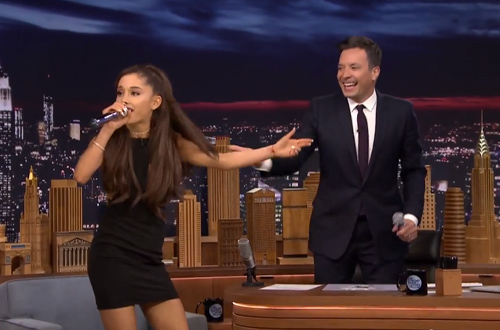 Ariana Grande has won over many fans and critics alike with her powerful pipes, but many will be surprised to know that she can also imitate one of the greatest voices of all time. For her first-ever late night talk show interview, the Pop star paid a visit to "The Tonight Show starring Jimmy Fallon" on Friday night.
During their chat, Jimmy put the petite songstress on the spot asking her to show off her impersonation of legendary singer Celine Dion. Giving her a little push he persuaded her to join him in a duet of "Beauty and the Beast." Nailing the Canadian accent and body movements perfectly Ariana had Jimmy and the audience cracking up.
In addition to her interview, she joined Jimmy for a comedic sketch in his "Ew!" series.
Watch both clips below: