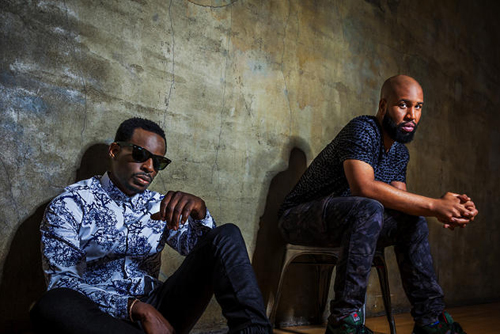 If you don't work in music or study song credits the names Claude Kelly and Chuck Harmony may be foreign to you. So, as a quick summary, they've sold over 25 million records combined working with artists such as Whitney Houston, Michael Jackson, Rihanna, Mary J. Blige, Bruno Mars, and many more. Receiving multiple Grammy nominations over the past half decade or so, together they have been responsible for recent Grammy-nominated R&B singles from Fantasia, Ledisi, and Tamia.
Working closely since Chrisette Michele's 2009 album Epiphany, the multi-talented pair have taken their combined skills and poured them into a new project, a duo called Louis York. The name comes from combing the cities where they are from: New York and St. Louis.
"We got tired of being the last minute call to write a first single," Kelly recently told the LA Times. "Getting up to go to work was confining and disturbing my peace. Those days are over."
"We got really stagnant for a while," added Harmony.
As Louis York, the duo recorded 15 songs last year, and plan to release their first EP called, 'Louis York Masterpiece Theater: Act I,' which the LA Times describes as an "eclectic mix steeped in hook-driven pop and throwback R&B along with rock and African tribal rhythms," this spring.
With their first song, "Clair Huxtable," Louis York is hoping to rewrite R&B and its portrayal of black women. The lyrics were born out of a frustration with how black women have been portrayed, and exploited, in music and beyond (it was written long before the controversy surrounding Bill Cosby).
"It's not the way she styles her hair, or the designer clothes she wears / Her silhouette's one of a kind, but most of all she's got a beautiful mind," Kelly sings over a simple guitar riff before Harmony twists the track into a mash-up of '90s New Jack Swing and futuristic R&B.
Take a listen below!