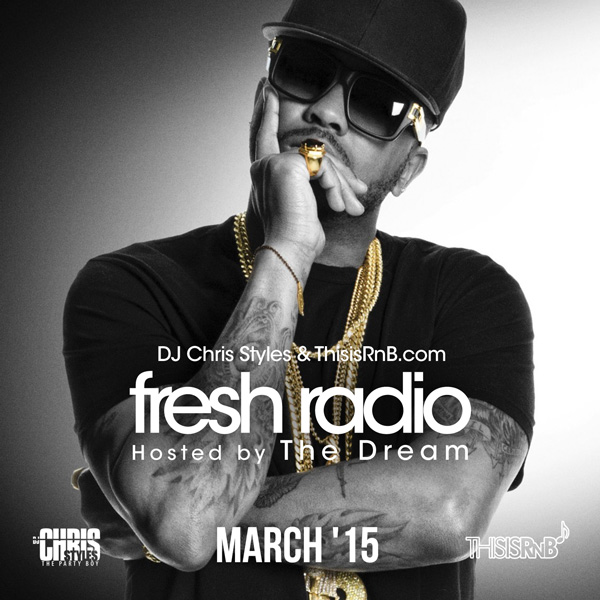 2015 has been off to a running start and we're keeping it going with the new edition of our monthly "Fresh Radio" mixtape with DJ Chris Styles of Sirius XM's 'The Heat.' This month we're honored to have Mr. Radio Killa himself, The-Dream, as our guest host.
As always the 60 minute live mix features some of the hottest R&B singles climbing the charts and rockin the clubs right now, including tracks from Ne-Yo, Mario, Sevyn Streeter, Tinashe, and many more. Plus exclusive interlude breaks from Dream, who is currently prepping for the release of his new EP 'Crown,' due out March 31.
Stream the new mix now below!
Tracklist:
01. The-Dream Intro
02. Ne-Yo feat. The-Dream – She Knows (Remix)
03. Mario – Fireball
04. Jack U feat. Justin Bieber – Where Are U Now
05. Sevyn Streeter – How Bad Do You Want It
06. The-Dream Break
07. The-Dream feat. T.I. – That's My Ish
08. Tinashe feat. Iggy Azalea – All Hands on Deck (Remix)
09. Kay Cola feat. French Montana – Not OK
10. Anthony Lewis feat. T.I. – It's Not My Fault
11. The-Dream Break
12. The-Dream – I Luv Your Girl
13. Kayla Brianna – Honest
14. Wale ft Usher – The Matrimoney
15. Nick Jonas feat. Jhene Aiko – Chains (Remix)
16. The-Dream Break
17. The-Dream – Fruition
18. Jodeci – Checkin For You
19. The Weeknd – Where You Belong (DJ Rukus Bootleg)
20. Empire Cast feat. Jussie Smollett – Good Enough
21. Pretty Ricky – Puddles
22. The-Dream Break
23. The-Dream – Fancy
24. Snoh Aalgebra – Emotional
25. The Fix – Famous
26. Malachiae Warren feat. TK-N-Cash – Thank Yo Momma
27. Liane V feat. Trevor Jackson – Keep Playing
28. Ty Dolla $ign feat. Tinashe & Charli XCX – Drop That Kitty
29. The-Dream Outro
DL: DJ Chris Styles & ThisisRnB – 'Fresh Radio' (March '15) (Hosted by The-Dream)