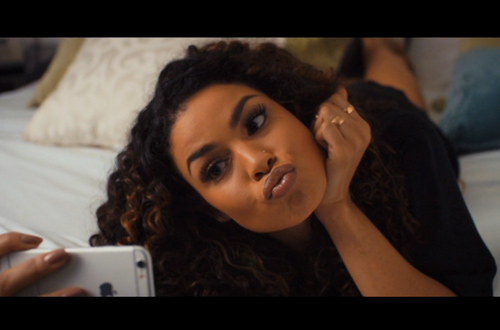 Jordin Sparks turns up her new grown and sexy attitude with the official music video for her Instagram-inspired single, "Double Tap" featuring 2 Chainz.
The former "American Idol" champ floods her Instagram account with irresistible selfies that tempt a not-so-secret admirer to like them.
Sparks says the song can be interpreted a few different ways. "For me in the song, the girl is talking to the guy saying, 'I know you stalk my page. I know you look at the photos. I know that you don't like them. I bet you're not going to like that picture, but I know you like me,'" she told Yahoo! Music. "But then you can take it another way as well, like you're in a relationship with someone," she explains. "Say we're sitting next to each other. Say we're together, right? I'm scrolling through my phone, and I hover over a picture of a really hot guy, and you're like, 'I know you're not about to tap that picture. I know you're not about to double-tap that picture in front of me.'"
The bouncy single can be found on her recent '#ByeFelicia' mixtape as well as her upcoming third album, Right Here, Right Now, due out this spring on Salaam Remi's Louder Than Life imprint via Sony.
Check out the video below: