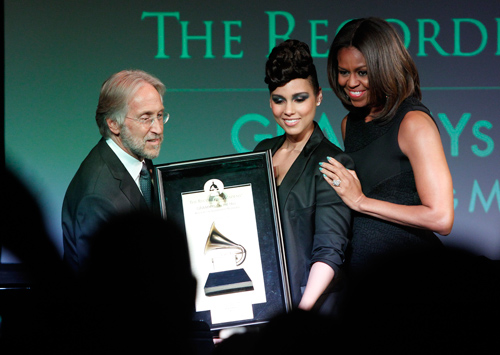 On Wednesday night music and politics united at The Recording Academy's 2015 "GRAMMYs on the Hill Awards" where Grammy-winning singer/songwriter/producer Alicia Keys was presented with the Recording Artists' Coalition Award.
"We are proud to honor Alicia Keys for her artistry, philanthropy and her passion for creators' rights as a founding member of The Academy's brand-new Grammy Creators Alliance," said Recording Academy President/CEO Neil Portnow. "We know that she will bring the same dedication to creators' rights as she does to her global philanthropic efforts."
First Lady Michelle Obama was in the building to present Alicia with the prestigious award. "She simply is who she is and she does what she knows is right, no matter what anyone else might think," said the First Lady. "With her example Alicia has truly set a new standard for us all, that's why I'm here – I love this woman."
The GRAMMYs on the Hill Awards are sponsored by SESAC, and proceeds from the event benefit the GRAMMY Foundation's GRAMMY Signature Schools program, which provides support for underserved music programs throughout the country.
Grammy-nominated songstress Ledisi was also in the building and performed a tribute to Alicia.
Check out photos and video footage from the event below:
(Photos courtesy of The Recording Academy/Wireimage)