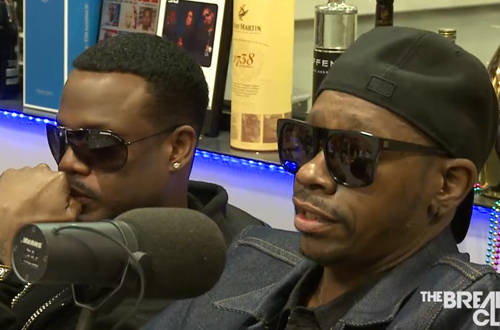 The boys are back!! Well minus Devante (again), but Jodeci has finally returned, after 20 years, with their brand new album The Past, The Present, The Future.  While visiting NYC for their album release K-Ci, JoJo, and Mr. Dalvin stopped by 'The Breakfast Club' for a long overdue interview.
Reminiscing on their career and giving a little history for the younger listeners, the fellas talked about coming from the south and a church background to being singed to Uptown Records and having a young Puffy Combs handle their project. From staying in the Bronx and learning the New York lifestyle to designing their street look, to Devante's early attempt to join Prince's band, and K-Ci's father telling him that if he leaves home he better not come back if he doesn't make it, it was a great interview for fans.
They spoke about being young playboys, K-Ci spoke about his relationship with Mary J. Blige, they addressed past addictions and the performance where it looked like JoJo passed out on stage. Coming back to the present they spoke about their brand new album, reasons for their reunion and working with LA Reid at Epic.
Watch the full interview below: