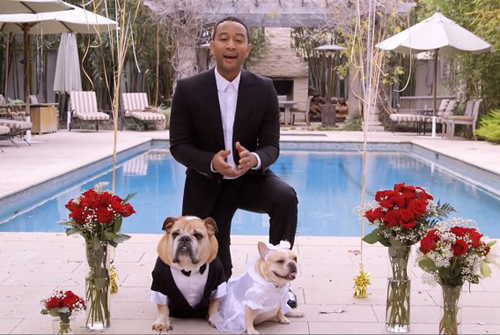 John Legend might do anything for a good cause!
In support of the Show Me Campaign, an education awareness effort launched by Legend in 2007, the singer is offering to perform at a fan's wedding or any private event to raise money for a charitable cause. Anyone can enter to win a private concert and evening with Legend, though chances of scoring the big prize will increase with the donation amount (options range from $10 to $25,000).
All proceeds will go towards the auditorium renovation of Legend's alma mater, South High School, located in Springfield, Ohio.
In a promotional video for the campaign, Legend can be seen crooning "All of Me" to his favorite canine couple, Puddy and Pippa. "Can't wait to see whose wedding (or other event) I'm playing at! I've been working hard on this. Some might say working like a … dog?" he posted to his Facebook.
Watch the singer give his all for his first dog wedding ceremony below:
[via THR]