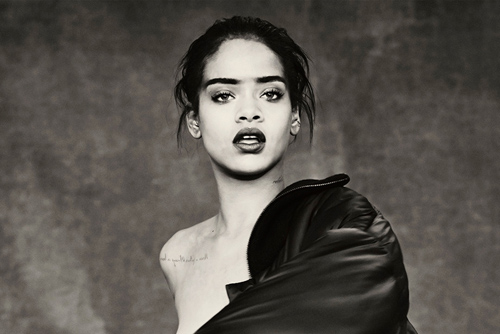 You're not a real stoner if you're not late for things I guess. While she celebrated 4/20 yesterday at her assistant Jennifer's wedding, Rihanna has now given fans some new music to feed their own addictions.
The pop star has released a short but sweet interlude, entitled "James Joint," from her upcoming eighth studio album.
"I'd rather be smoking weed whenever we breathe / Everytime that you kiss me / Don't say that you miss me," she sings.
"Dude, I'm in love with my interludes. This one called 'James Joint' is on constant repeat," RiRi recently told V Magazine in her cover story for their new summer issue. In addition to the new track, she has also shared some smokin hot photos from the magazine, which hits newsstands May 7.
In the colorful shoot by fashion photographer Steven Klein, RiRi drapes herself in a yellow fur while catching some rays in front of a Mobil fuel tank, and sips from a plastic cup, strategically placed over her breast. Donning a pink newsboy cap, she sucks a popsicle and channels a sexy Stepford wife while lounging in the pool.
She also speaks about her upcoming eighth album, which is being executive produced by Kanye West. "[The album is] soulful and aggressive, whether it's lyrically, musically, or just the tone of my voice."
Hear Rihanna's new song, and peep the photos below: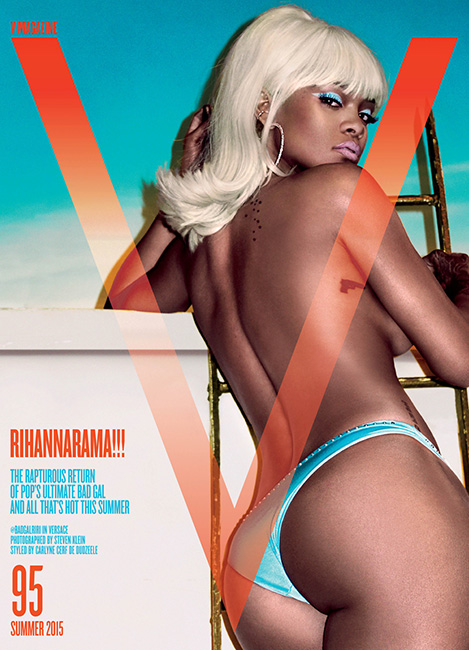 (Photos by Steven Klein / V Magazine)
See more next…