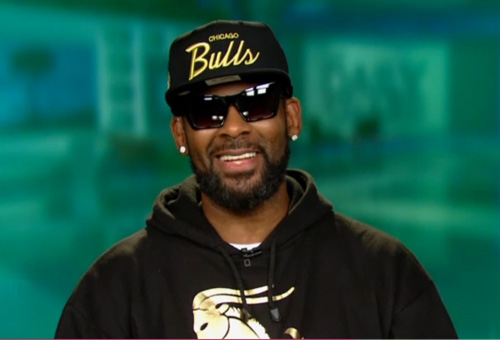 He's not called the King of R&B for nothing…
While in Atlanta late last week for his performance at Funk Fest, R. Kelly stopped by V-103 to chop it up with Big Tigger, and while doing so he brought a little gift along, which was a brand new song called "Planet."  The record is a inspirational, socially conscious type of song (something we haven't heard from Kellz in a while, but miss) and he explained that he was inspired by the events in Baltimore, and all over the world as well.
"This is a reach out song," said Kelly. "Ya know I always got to break it down before I put out my album, I gotta see what's going on in the world and I got to say something about it." Continuing, "It's not just about the sex songs, sometimes it's about issues, about what's going on."
It appears this won't be a one-off single either, as R. Kelly has also revealed that he is prepping for his 14th studio album, which is going to be titled "Buffet." Speaking with Rocsi Diaz on HLN's The Daily Share, he made the announcement and shared the inspiration behind the title and concept.
"It's all you can hear," said Kellz. "I'm 27 years deep in the business, I've been blessed to do this music for so long and I've got a lot of great songs under my belt, and fans love it. But, I've got all different kinds of generations of fans now, and I have to feed everybody. You've got hip hop, you've got old school music with the "Step In The Name of Love" type, then you've got traditional R. Kelly, sensuous sexual kind of music. It's just a variety of things, so I call it the buffet."
If all goes according to plan the album will be out as early as this summer or early fall.
Check out the interview below!