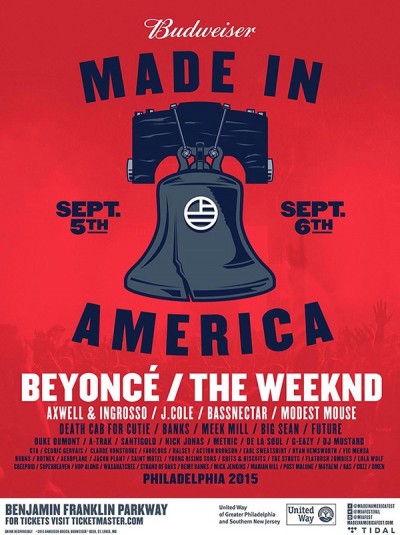 'Tis the season for dope concerts and if you didn't know, now you know!
While summer is usually for crop tops and short shorts, music lovers everywhere know it as so much more. Literally filled with different musical events every weekend, summer is just beginning.
Delivering the line-up for this year's Made In America tour in September, the two-day festival returns to Philadelphia and the performers are quite the choices. Announcing that both Beyoncé and Canadian sensation The Weeknd will be the headliners for this years festival, the event will be held at Benajmin Franklin Parkway on Labor Day weekend.
Additional performers include J. Cole, De La Soul, DJ Mustard, Santigold, Banks, Fabolous, Meek Mill, Big Sean, Future, and more. Although the festival will not be simultaneously held in Los Angeles this year, the expansive and diverse roster will be well worth the travel.
Tickets for the event go on sale Monday, June 30 at noon.