Tamia. When speaking of her, the words musical perfection come to our mind, but for you, longevity, OG of R&B, and gracious beauty might be accurate substitutions.
While the gorgeous songstress made her appearance on the scene almost two decades ago with her hit-single, "You Put A Move On My Heart," that hasn't stopped the now 40-year-old singer from keeping her relevancy in tact. Delivering her self-titled debut album in 1998 and its follow-up A Nu Day in 2000, the mother and wife of legendary basketball player Grant Hill took over the hearts of many with her sultry and breathtaking voice.
Now on her sixth album, Tamia is back like never before and the appreciation is larger than life. Signed to Def Jam Records, Love Life offers up her first album on a major label since 2004's More. Hosting some hot and steamy new singles such as "Stuck With Me" and "Lipstick," the new album hits stores today and we couldn't be more excited about its arrival.
Taking some time out of her busy schedule last week to chat with us about its inception, Tamia let me in on a few details revolving around Love Life, her upcoming tour, how to make love last, and her thoughts on the current state of R&B.
Check out the exclusive interview below!
First, I want to thank you so much for coming back out. We have definitely been missing you.
Aw, thank you!
How was your segment on The Chew today?
Oh, it was fun! We learned how to grill. It was fun – it was easy. You know you go on a show, they teach you how to cook, and you get to eat it. So, that's pretty good (laughs). It was an easy one today.
So, the first question I want to ask is how has the whole transition been for you being on a major label, going independent, and now being back on a major label?
You know, it's been pretty seamless. One of the reasons why I was excited to work with Def Jam is because they were excited to work with me. So, I think mutually, we're all on the same page and it's been great, really. I have no complaints.
I know that you've worked a lot with Claude Kelly and Chuck Harmony on the album and you've worked with The-Dream and Tricky too. I also know that you've had a lot of success with Claude and Chuck in the past – what are some differences and similarities you've had with working with both of them?
You know, the difference is all three of us are on the same page as far as music and musically and we have this great creative chemistry that happens when we get in the studio together. I think that's reflective of the music that you hear from us. It's a lot like just hanging with friends so – you know, we all love music – when you get to spend time with people you enjoy spending time with and then creatively you guys feel that you are linked, it feels a lot more fun and less like work. We have conversations about the music business and music and what we like and what we don't like. And in the midst of all of that, we create great music.
I've been listening to the album since it went out on iTunes First Play, and I'm absolutely in love with it. I think it's a very good body of work and I'm thankful for it. A lot of people have come out of hiatus including Jazmine Sullivan, Melanie Fiona, and now the news of Janet announcing she's dropping something. So, tell me a little about the process behind the creation and, if you could, tell me what your favorite song from the album would be and why?
Oh man, that's a difficult one because you like certain songs for certain reasons and also, it depends on where I am that day and what mood I'm in. I'm drawn towards certain songs so, that would be hard. Which is what I want. When I set out to do a project, I ask myself, 'Is this something you would want to sing forever?' You know? I've been fortunate because when I go to do shows, a lot of times the most popular songs of mine are the songs that weren't singles. They're songs that people listen to on the album and they enjoyed the entire body of work – like you said. So, I try to make sure that I put songs on the album that I love from top to bottom. So, I guess it would depend on what kind of mood I'm in. If I were in a slow mood – sultry – maybe "Chaise Lounge." If I wanna have a good time and hang out in a lounge, maybe I'd listen to "Sandwich And A Soda." Or, if I were singing at someone's wedding or renewing my vows, it would be "Day One." I think music is all dependent upon what mood you're in.
I definitely agree. I know that a lot of your music has definitely come from your relationship with your husband, but if you had to pick that song that wasn't "Day One" that made you think of your husband or made you feel like "This is Grant Hill" when you play it, what would it be?
[Laughs] I mean pretty much the entire album is an ode to love. Hence why I called it Love Life. It's loving life but also it's a love album – it's a love project. So, all the songs are sort of what speaks to us.
Everyone has their own interpretation of what R&B is. Right now, it's kind of shifting into a more fun, bouncy, and bass driven sound for the moment. In my opinion, you are definitely an OG in the game and you have a pretty good mindset for where it's come from, where it is right now, and perhaps where it's going. Compared to where you were when you came in, what do you feel like is missing from it?
Me personally, I don't think it has any specific thing out there. I think, it doesn't have the money behind it like some other genres and the platforms to which it can be exposed. I think if we give R&B a bigger platform, put the machine behind it a little, as much as we do pop and hip-hop, I think it would do much better.
I definitely agree. It's definitely not how it was in the '90s or even the early '00s. I just feel like it's kinda thrown about right now.
Well we had shows like Soul Train and all these things like BET as far as playing videos and a lot of that was R&B. Those platforms are gone. We don't have as many mainstream looks, I guess is what I'm saying.
We took a poll on our social media to get a few questions that your fans have. One of the questions comes from Sarah on Instagram. She asks:  "What song do you feel launched your career and what songs do you feel held you back as an artist?"
Well launched, I would have to say "You Put A Move On My Heart." That definitely opened a door for me. As far as holding back, I think that as an artist, you're supposed to try new things and vocally grow as well. So, I wouldn't say there was a song that held me back. I think I've been fortunate to be sitting in a place right now to be very blessed to be doing something that I love for so long and still be as excited about this project as I was the first one. So, I wouldn't say any particular song was holding me back.
The next question comes from Twitter, but I actually have this question myself. Will you be touring for this album? Please say yes.
I'm absolutely touring to support this album! I just had a conversation with my team and we think we're looking toward the end of August thru September. So, I'm definitely looking forward to that.
Oh, amen! So am I! Please make sure Atlanta is one of your stops because I'll be right there front row, and center!
[Laughs] Absolutely! Who could do a tour and not stop through Atlanta? Absolutely, I'll be there.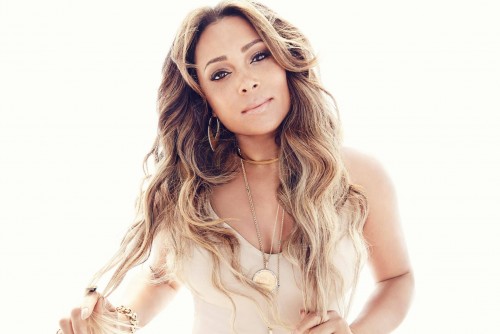 Perfect! I have another question. I follow you on Instagram and I notice that you and your husband have been working out with Luther Freeman and Kathy. They're actually from Orlando – which is where I'm from – so I'm so excited to see them get the promotion they've been getting and be able to touch a lot of people's lives. How has that been going and what made you do the 30-Day Transformation?
Well, we just wanted to live a healthy lifestyle. We believe in health and wellness, and certainly health and wellness for our people as well. And also, when we spoke to Kathy and Luther about it, it was also coming from a place of doing it together as a couple. Often times we work out and we take care of ourselves, but with our spouses, it's like 'ugh!' So certainly it's easier and for me, lot more fun – and certainly a lot more accountable – when you do it together. So, we decided to join the challenge. I live in Orlando as well so Kathy and Luther are there. So uh, it's been interesting.
I'm excited to see so many people working with them. Their program is legit and it's intense!
Yeah! It's intense! And certainly what they're doing is helping so many people and motivating so many people. So, we just wanted to join in on that and help to inspire and get ourselves healthier tomorrow than we were yesterday. So, that's what it's all about.
OK, so back to the music. I know "Stuck With Me" is the single you guys are pushing and I absolutely love that song, but I'm actually wondering when you're going to drop "Lipstick" as a single. Please say you are.
[Laughs] Whew! Let me get my body right, child! That's gonna be a doosie of a video I think. Yeah, that one would be…I'd have to come correct on that one [laughs].
Do you know which single you guys are gonna push next?
As of right now, no. You got the download of "Day One," so now there's three songs – "Stuck With Me," "Sandwich And A Soda," and "Day One." So, the albums out next week (today), so we'll let that sizzle and see what the next one is.
I always like to ask: if you could have penned any song, what would it have been and why?
Oooo…well…I think "Let's Get It On" by Marvin Gaye. That would be good. That's just a classic, sexy song that stood the test of time. I mean it has a great melody, and lyrically, it's obviously amazing. So, "Let's Get It On" would be good.
Which current artist or producer are you ready to work with?
You know, I've worked with a lot of different producers. I mean, you name them and I've worked with them. I mean this last project, I've gotten to work with some great people like Polow and Pop and Oak and The-Dream. Of course Tricky I've worked with on the first album so that kinda felt like a full-circle moment. I'm always open to new ideas and working with new people.
Who are you listening to right now?
Well, right now, I'm sort of just you know, being on the road and doing promo tours and things like that. I am not, unfortunately, listening to a lot of music at the time. And then of course when I'm in the car, my kids take over. I'm often like 'huh? What's this? Who's this? What'd they say? Turn that down!" That's pretty much where I am right now as far as music is concerned [laughs]. But as soon as I turn something on that I want to hear, they're like "Ahhh no, mom!" So, my world is upside down with the kids and the radio situation right now.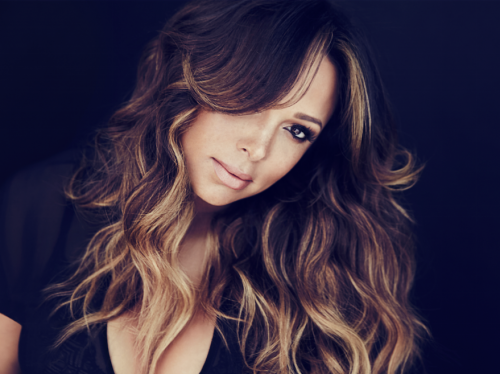 If you had any advice to give to the up and coming R&B acts or artists that are out right now or looking to break into the genre and have longevity as you have, what would it be?
Uh, you know, my advice would be that the music business is ever changing. And, certainly – it's never been, but it definitely isn't now – you cannot only rely on having talent. There are a lot of people who are talented, but I would say it's about knowing the business and learning as much as you can about the process of the business and how it works. There's a lot more business that goes on than music. So, it's all about getting to know as much as you can about the business, that's what I would say.
If you could give advice to anyone who's looking to kinda like…I don't want to say "model" their lives after you and Grant's because that's impossible. I think everyone has to find love in their own way, but you guys have made it last for so long and especially with you two being in two different industries and being in two separate worlds. What advice would you give to people to make their love last?
I would first say that you can't look at someone else and how their relationship is going and model that for yourself. I think that what works in one relationship may not work in the next. So, you kinda have to stay focused on your relationship and communicate with each other on what you want now and moving forward. I think it's impossible to think you can be together with someone and not grow and not change a bit and things like that. You can do that together if you communicate. So I would say it's important to focus on their relationship and not look at someone else's and start to question your own.
Last question. What can we expect next from you?
Well right now, my focus is Love Life and then moving from that, it's about you know, hitting the road and going on tour and I'm excited about it. I can't wait to bring Love Life to life. I can't wait to do that.
–Interview by Ni'Kesia Pannell
Purchase Tamia's Love Life on iTunes now!!