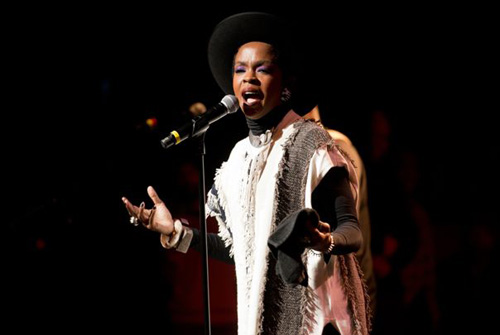 To accompany the release of Netflix's upcoming Nina Simone documentary, What Happened, Miss Simone?, a number of singers have recorded covers of some of the icon's most memorable songs. The compilation titled, Nina Revisited: A Tribute to Nina Simone, features songs by Lauryn Hill, Mary J. Blige, Usher, Jazmine Sullivan and Simone's daughter Lisa, among others. The first to come out as a single is Hill's roaring rendition of Simone's 1965 bluesy showstopper "Feeling Good," which premiered on Rolling Stone.
Hill originally agreed to record two songs for the record, but she became so swept up in the experience that she ended up recording six. She also went on to serve as a producer on the compilation alongside Robert Glasper.
In a statement, Hill said, "Because I fed on this music, both hers and lovers like her, like my basic food, I believed I always had a right to have a voice. Her example is clearly a form of sustenance to a generation needing to find theirs. What a gift."
What Happened, Miss Simone? will premiere on Netflix on June 26th. The film, which Liz Garbus directed, features archival footage and rare recordings and tells the singer's story mostly in her own words. The tribute album will arrive on July 10.
Take a listen to Lauryn's stunning cover below:
Nina Revisited: A Tribute to Nina Simone Tracklist:
01. Lisa Simone – Nobody's Fault but Mine (Intro)
02. Ms. Lauryn Hill – Feeling Good
03. Ms. Lauryn Hill – I've Got Life
04. Ms. Lauryn Hill – Ne Me Quitte Pas
05. Jazmine Sullivan – Baltimore
06. Grace – Love Me or Leave Me
07. Usher – My Baby Just Cares For Me
08. Mary J. Blige – Don't Let Me Be Misunderstood
09. Gregory Porter – Sinnerman
10. Common & Lalah Hathaway – YG&B
11. Alice Smith – I Put A Spell On You
12. Lisa Simone – I Want A Little Sugar In My Bowl
13. Ms. Lauryn Hill – Black Is The Color Of My True Love's Hair
14. Ms. Lauryn Hill – Wild Is The Wind
15. Ms. Lauryn Hill – African Mailman
16. Nina Simone – I Wish I Knew How It Would Feel To Be Free