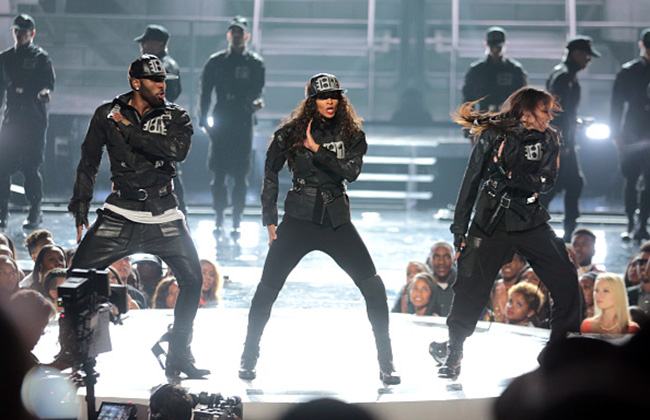 Janet Jackson kicked off her big comeback at Sunday's BET Awards. The global megastar was honored with the Ultimate Icon: Music Dance Visual award and received a dance tribute from some of today's top artists. Her longtime producers, Jimmy Jam and Terry Lewis, opened by recalling their first meeting with Janet in Minneapolis.
As a mini movie of Janet's biggest moments flashed on screen, the star power was felt. Breaking from the traditional tribute norm, Ciara, Jason Derulo, and Tinashe showed how much she has influenced them as they danced to Janet's classics.
Tinashe came first to recreate the "Pleasure Principle" dance sequence (complete with chair), followed by Jason Derulo with 2001's "All for You." Ciara's long-awaited moment sealed the deal as she recreated the classic "If" dance routine followed by "Rhythm Nation."
As Janet's new single "No Sleeep" played before a group of dancers, the icon herself emerged to a standing ovation, looking stunning in all white.
She acknowledged her husband and parents, who were both in the audience, and thanked her fans for their loyalty.
"My heart is so full. Thank you God for making everything, anything possible," said Janet. "I'm so grateful for the support you've always given me."
Janet will kick off her "Unbreakable World Tour" on Aug. 31 and release her first album in seven years this fall.
Catch the stunning tribute below: