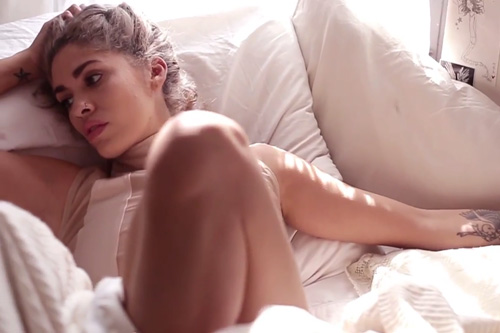 We could tell you that STELLA is the daughter of legendary artist and musician Carlos Santana and that is reason enough for you to check her out, but that would kind of be doing her a disservice because she is dope in her own right, and doesn't need any preconceived opinions on if and why you should feel her talent.
At 30 years-old STELLA only decided to make a push as an artist 2 years ago, enough she has been playing guitar and piano since she was five. Like many it was a serious heartbreak that brought her to this stage and inspired her to share her stories through music.
"'Switch' was the first song that I wrote after my break-up," STELLA tells Billboard. "I didn't have a melody or a beat for it yet; I just kind of wrote the lyrics out. It was cathartic. I remember sitting on the couch, and it took the whole day for it to come out of me. I was just sobbing, but there was a feeling inside me that kept me going. When my producers played me the beat I thought, 'This is how I felt that day.'"
"Switch" is a collaboration with Sam Ahrendt and Don Steele, who go by the name Caswell, the same production duo behind the equally soulful track "Friends," both of which will appear on STELLA's upcoming debut album, Selfish, due in the fall of 2015. The video, directed by Taryn "Teek" Anderson, artfully takes viewers through a heartbreaking rollercoaster of identities with stuttering day-to-night footage of 24 hours in Manhattan's Lower East Side.
"I wanted to go through that first day when you wake up after you've broken up with someone and it hurts," she says. "You think, 'How am I going to go through this whole day?' So it was about moving through those thoughts and emotions — do you call them back? Do you text him? Do you leave him alone? You can't figure anything out so I wanted the video to show that pain. Then at the end, there's a switch. You feel empowered after you realize 'Wait, I made this decision, I chose to not be with you' instead of just wondering 'Why me?'"
Take a look at the video below: