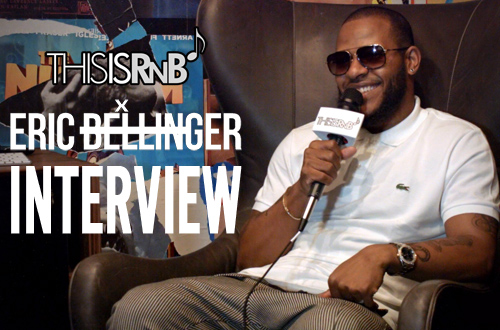 Grammy Award winning singer/songwriter Eric Bellinger is prepping for the release of his anticipated new album Cuffing Season, now due out July 17 via YFS/300 Entertainment. The album features Boosie, Tank, T Boz, 2 Chainz, Mya and more, with production by Ayo, Bam, D Mile, DJ Mustard, Tommy Brown and more.
While he was visiting New York City recently we caught up with the R&B hitmaker for an exclusive interview at a bungalow in Spotify's NYC office to talk about the new album, his personal life, and how the two are so closely intertwined.
"Each project was my life through music," explained Eric while talking about the progression between his last album The ReBirth, prelude mixtape 'Choose Up Season,' and the forthcoming Cuffing Season album. Eric breaks down the transition musically and in his personal life, explaining how using those personal moments turned into the best way to promote the new album, and celebrate a lifestyle dedicated to a monogamous relationship.
"I could have been here, I could have been there, I could have been with that person, but love made me do it," he says referencing the song "Love Made Me Do It." A title that is so amply suited for the album's theme, which is a trend throughout the tracklisting. Going further he gives us details on some of the features on the project, including the Boosie-assisted "You Can Have The Hoes," the TLC inspired "Creep" which features none other than T-Boz herself, and the Tank-asssisted "Turn Down For You."
Eric has coined himself the "King Cuffer" and he is proud to wear the title and persona with the intent to inspire the culture and young generations to be devoted to whomever they choose to love.
Check out the interview below!