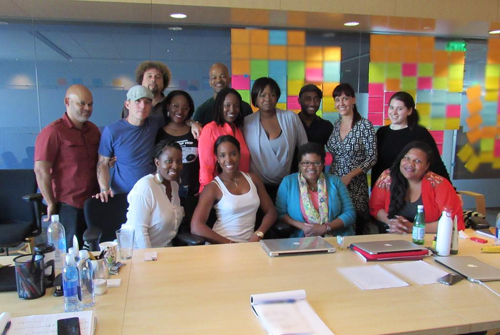 FOX's hit drama Empire continues to surprise with their celebrity guest list for the upcoming second season.
R&B vixen Kelly Rowland will be the latest music superstar to appear on the show, according to E!, who were slipped the news over the weekend at the 2015 ESSENCE Festival.

Their source revealed that the 34-year-old will play Lucious Lyon's mother in a flashback scene.
Speculations launched last month about Rowland's appearance on the show after she shared the above photo with the Empire screenwriters.
Kelly will join the likes of Alicia Keys, Lenny Kravitz, Chris Rock, and Ne-Yo, who are all expected to be making appearances this season.
"I'm a big fan of Empire and I'm gonna get the privilege to be a part of the Empire family, they're writing me into the script as a character, not as myself, which is kind of cool. I'm digging that," Ne-Yo previously told Buzzfeed. "Also I'm doing a lot of the music for the second season, so that's special."
'Empire' season 2 is scheduled to premiere on September 23.
Hey, @KELLYROWLAND! Thank you for spending some time with the #Empire writers! pic.twitter.com/9bRLzFLS0V

— Empire Writers (@EmpireWriters) June 3, 2015