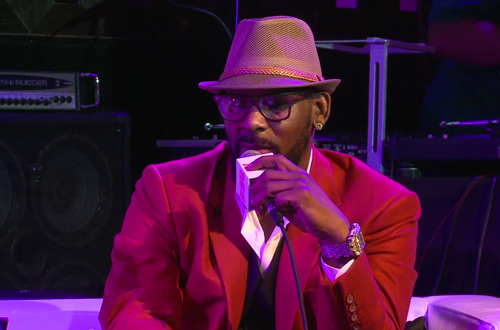 During a special 'Live Listening Lounge' event, Hot 97's Peter Rosenburg and WBLS' Deja Vu sat down with R. Kelly for an insightful interview. Kellz shared some stories, including his dream-come-true of working with Michael Jackson, and revealed some of the projects he has in the works, as well as his new album Buffet.
When Kellz was asked how he got the collaboration with MJ he said, "Micheal's like the president. He can contact anyone." Rosenberg asked him about the infamou album, Loveland and why it was never officially released. "Loveland wasn't put out because of bootlegging and it was already introduced to the world before an official release," he said.
Making a statement that will certainly shock most R&B fans, when asked which artist he would still like to work with today, Kellz paused and explained that he's at his best when he's wanted and knows exactly where an artist is trying to go, and that artist would be Trey Songz! He said he would actually love to do a full album with Trigga! (This needs to happen now!!)
R. Kelly also revealed that he is in the process of writing a movie called "Blue Suede," that is inspired by his grandfather (a Blues musician) as well as B.B. King. The film tells the story of main character Illinois Blue that may be portrayed by Kelly himself, but he said that the part wasn't written for him specifically. His famed hip-hopera, "Trapped in the Closet," has a few chapters completed with more on the way, and may premiere in time for September.
Check out the interview below!