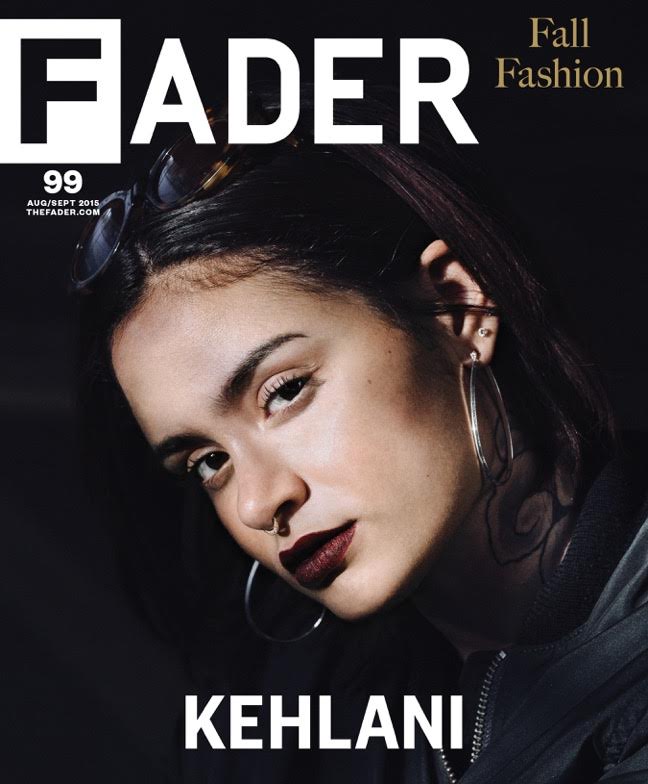 Kehlani is riding the wave that she created, and her latest ripple is covering The FADER's 99th issue, and Fall Fashion edition.
The Oakland bred R&B singer/songwriter is currently traveling North America on her "You Should Be Here" Tour, and working on her much-anticipated major label debut album, due out next year. Kehlani is handling her music career much as she has the rest of her life — with focus and determination, and a refreshing honesty that makes her stand out from the crowd.
The FADER's editor-in-chief Naomi Zeichner and contributing photographer Joyce Kim traveled to Los Angeles to spend time with the musician at home. In the cover story, she opens up about her rough childhood, how TV host Nick Cannon changed her life, her rumored relationship with PARTYNEXTDOOR, and how she's forged an authentic bond with fans.
Read some excerpts below:
"Hard work always beats talent, that's always been my thing," says Kehlani. "The girl that needs me is the outspoken, awkward tomboy. She looks hard, but she's very soft. She's misinterpreted, coming into herself, openly growing."
On her rumored relationship with PARTYNEXTDOOR: "Whether or not I'm in a relationship, I never want that to be the focus of what I'm doing and what I'm trying to accomplish. I prefer to focus on myself."
On her childhood: "There were times where I really had to do shit like wait outside of a train station and snatch iPhones out of peoples' hands and run and sell them," she says. "I went through people's houses. I ran through cars – all type of shit that I feel like made me grow up fast. I've been banned from Walgreens. I've been banned from Walmart for stealing fucking clothes and food. Lucky's caught me with a box of Wheat Thins and some bread. I was like, 'Can't you tell I'm stealing because I'm hungry?'"
On her past relationships: "I got my first girlfriend in ninth grade. Then I told her I didn't know what I wanted and broke up with her. I think I was always just, like, you have to be gay or you have to be straight–that those were conflicting. I learned that there's really no wrong or right, that it was cool to like everything. But it was a lot for me."
Read the full article here.