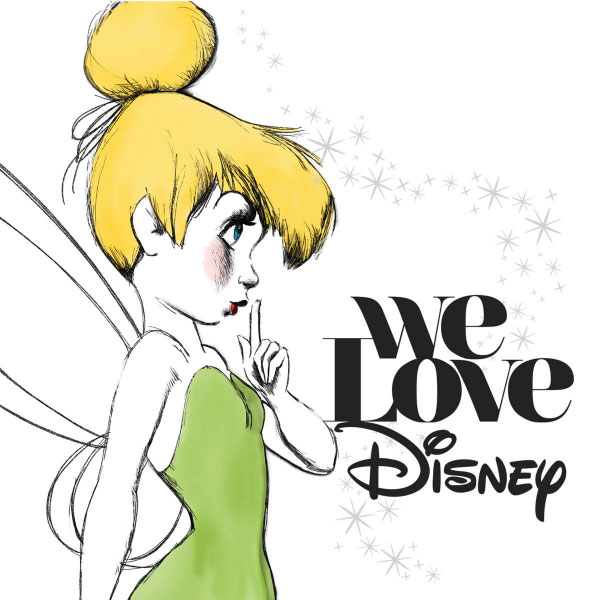 Some of your favorite artists are getting down with Disney. As part of the We Love Disney compilation, today's superstars from the worlds of pop, rock, R&B, and country have recorded their own unique interpretations of classic Disney songs, which they chose themselves.
Ne-Yo covers Robin Williams' "Friend Like Me" from Aladdin, Jhené Aiko takes on Alice in Wonderland, Ariana Grande performs "Zero to Hero" from Hercules, and Jason Derulo covers Elton John's classic "Can You Feel the Love Tonight" from The Lion King.
Produced by the Grammy Award-winning David Foster, the 15-track deluxe edition also includes contributions from Jessie J, Gwen Stefani, Tori Kelly, Jessie Ware, Yuna, and more.
"The Disney franchise is something that brings out the kid in all of us," said Foster. "No matter how old you are, 3 or 103, when you hear the word 'Disney' you light up from within. And there isn't a person on the planet who doesn't have a favorite Disney song. We tapped into that passion with all of the artists on the album."
Verve Records and Walt Disney Records will release We Are Disney on Oct. 30.
Take a listen to Ne-Yo's rendition of "Friend Like Me" below!
We Love Disney Tracklist:
01. Friend Like Me (From Aladdin) – Ne-Yo
02. Part of Your World (From The Little Mermaid) – Jessie J
03. Can You Feel the Love Tonight / Nants' Ingonyama" (From The Lion King) – Jason Derulo
04. The Rainbow Connection (From The Muppet Movie) – Gwen Stefani
05. Zero To Hero (From Hercules) – Ariana Grande
06. In a World of My Own / Very Good Advice (From Alice in Wonderland) – Jhené Aiko
07. I Wan'na Be Like You (The Monkey Song) [From The Jungle Book] – Fall Out Boy
08. Colors of the Wind (From Pocahontas) – Tori Kelly
09. A Spoonful of Sugar (From Mary Poppins) – Kacey Musgraves
10. Ev'rybody Wants To Be a Cat (From The Aristocats) – Charles Perry
11. A Dream Is a Wish Your Heart Makes (From Cinderella) – Jessie Ware
12. Let It Go (From Frozen) – Rascal Flatts & Lucy Hale
13. It's a Small World – We Love Disney Artists
14. It's Not Easy Being Green (From The Muppet Shows) – Brenna Whitaker
15. A Whole New World (From Aladdin) – Yuna