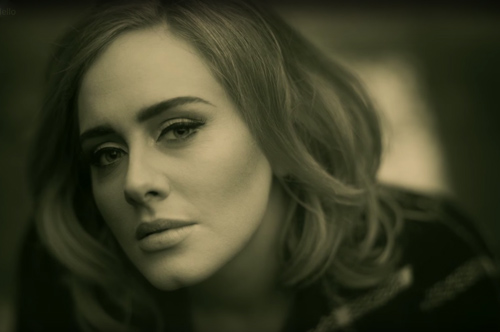 When Adele is ready to go the machine moves fast! While we just recently learned that the British songstress would be returning this fall with her much-anticipated third studio album 25, it was only a matter of days before we get to bask in the first single and video!
The track, titled "Hello," was first teased this past Sunday as a short commercial during The X Factor UK, and now it has been released on digital platforms worldwide and brought to life with a cinematic video, directed by Xavier Dolan.
The monochromatic clip was shot in the countryside outside Montreal. Alone in her house Adele fixes some tea while reminiscing about a past relationship with her ex, played by Mack Wilds. In between flashbacks, a teary-eyed Adele tries to apologize for breaking his heart, but when she calls, no one answers.
"So hello from the other side / I must have called a thousand times / To tell you I'm sorry for everything that I've done," she sings on the emotional ballad.
Adele's third album 25 drops Nov. 20 featuring 11 tracks, with contributions from Danger Mouse, Max Martin, Tobias Jesso Jr., and OneRepublic's Ryan Tedder.
"My last record was a break-up record and if I had to label this one I would call it a make-up record. I'm making up with myself. I'm making up for lost time," she wrote in an open letter to fans. "I'm sorry it took so long, but you know, life happened."
Watch her new video below!