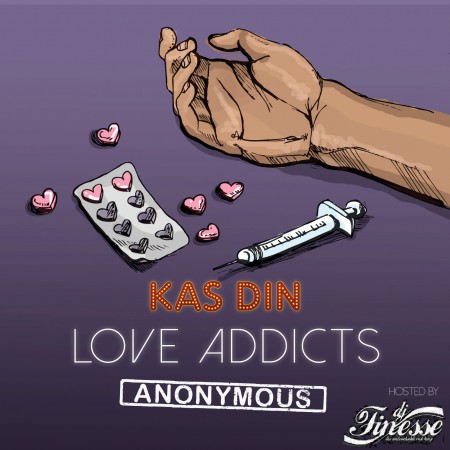 In 2015 we all have our addictions, whether it's social media, reality tv, fantasy football, or something a bit more x-rated. Many get addicted to the concept of love and ignore issues that will lead to trouble in the future, while others feen for the feeling of new love over and over again.
Whatever the ailment may be, rising indie R&B artist Kas-Din is here to offer some therapy with the release of his brand new album 'Love Addicts Anonymous,' hosted by the R&B Mixtape King, DJ Finesse. Presented by Ellis Park, the 14-track project brings listeners quality, authentic R&B that many claim is missing from our culture today.
The New Jersey native has been singing and honing his talents since the young age of six, where early on he became infatuated with the magical blend of sound, lyrics, and melody of classic R&B and has since attempted to recreate that perfection in a new generation of sound.
Losing his mother brought Kas much more drive and passion to pursue a career in music. He spent years performing and winning local talent shows and has had the chance to open for major artists such as 50 Cent, Clipse, Keyshia Cole and more.
Now a mature and polished artist, Kas is ready for the spotlight. His music often expresses thoughts and emotions about relationships from a man's perspective. He writes about love, pain, heartbreak and struggle in an attempt to break down the walls of masculinity to reveal what makes a man a real man. His songs express the notion that men and women are equally flawed and address the pain women can cause good men. With the release of his brand new project, Kas hopes that both men and women will appreciate the sincerity of his music.
Stream his album below, and it is available on iTunes now.
For more info check out www.kas-din.com and follow him on Twitter and Instagram @Kas_Din