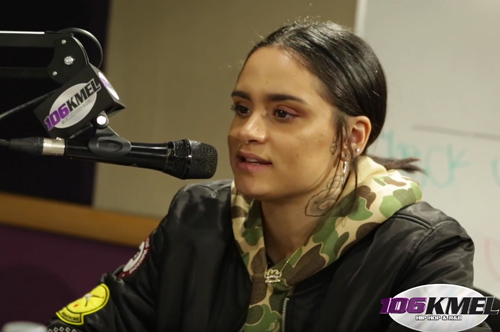 Back home after her first sold-out European tour, Kehlani returned to the Bay Area and stopped by 106KMEL on the eve of her two sold-out shows in her hometown for the 'Tsunami Christmas'. Chopping it up with Shay Diddy, the singer-songwriter talked about her new single "Did I," off of her upcoming debut album, and her side on what really happened in regards to The Shade Room's post about the "fan clapback".
With a Grammy nomination under her belt for her mixtape You Should Be Here, Kehlani talks about how she found out and her initial reaction. With her fame rising quickly, she's still learning to adjust, as she told Shay about her first paparazzi encounter while overseas in London and having false stories posted about her on The Shade Room, which she mentioned would be her new year's resolution to not be featured moving forward.
Beyond that Kehlani expressed her excitement about her upcoming debut album, which she has over 30 songs recorded so far. Led by the single "Did I," she talked about the meaning and inspiration for the track, as well as the story behind her other recent release – "Tore Up." As far as upcoming features, she has her sights set on Chris Brown and Big Sean for the album, and joked that she would battle rap Big Sean.
Peep the interview below: