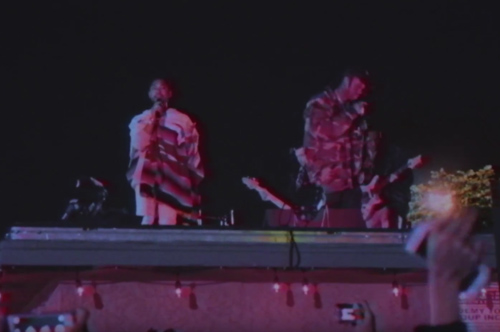 Miguel made history with his art installment of the Wildheart Motel at the end of last month in Baldwin Hills, California. With his inspiration, the R&B maverick and artist Will Perron turned 21 of the motel rooms into an experience that party goers couldn't forget. Each room was centered around a different art piece ranging from a glory hole that served tacos, flowing waterfall walls, and a dance party cave dripping with stalactites.
The invite-only event also brought out fellow artists like Rihanna, Tinashe, Tory Lanez and more including rapper Travis Scott who joined Miguel on the rooftop for a special performance of their remix to his latest single "Waves."
Now, to make the event even more everlasting, Miguel has released a live video of their performance as the official visuals for the remix. The wave that night was only good vibes as the singer, his band, and Scott rocked the crowd from above the seedy motel.
Check out the vintage styled video below.