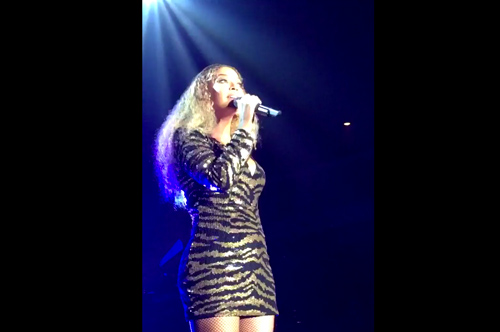 Beyoncé is specializing in surprises these days, and the latest was a performance at an elementary school gala on Saturday (March 5).
Wearing a sequin leopard print dress by Balmain, the global superstar took the stage at the Shrine Auditorium in Los Angeles this weekend for the Center for Early Education's 75th Anniversary Gala. Bey performed a short set, including "Crazy In Love," "XO" and a cover of Whitney Houston's iconic "I Will Always Love You." The classic song is a favorite of hers, and she performed it nightly during "The Mrs. Carter Show World Tour."
Beyoncé and Jay Z's four-year-old daughter Blue Ivy is reportedly enrolled at the Center for Early Education. The school's mission statement describes itself as "a socio-economically and culturally diverse independent school for children, toddlers through grade six," noting that it "strives to graduate students who are joyful, resilient, life-long learners."
Up next, Bey will bring her live show to arenas during her "Formation World Tour," which is set to begin April 27 in Miami.
Check out some fan footage from her performance below.
Parte I – Beyoncé performando "XO" na Shrine Auditorium & Expo Hall em LA. pic.twitter.com/s7DpgtcXEI

— Beyoncé Brasil (@BeyonceBrasil) March 6, 2016
Parte II – Beyoncé performando "Crazy In Love" na Shrine Auditorium & Expo Hall em LA. pic.twitter.com/0VbfTyAGPY

— Beyoncé Brasil (@BeyonceBrasil) March 6, 2016
Parte IV – Beyoncé performando "Crazy In Love" na Shrine Auditorium & Expo Hall em LA. pic.twitter.com/yNBFAEh91B

— Beyoncé Brasil (@BeyonceBrasil) March 6, 2016
Parte I – Beyoncé performando "I Will Always Love You" da Whitney Houston na Shrine Auditorium & Expo Hall em LA. pic.twitter.com/Zihd8vnDiJ

— Beyoncé Brasil (@BeyonceBrasil) March 6, 2016
Parte III – Beyoncé performando "I Will Always Love You" da Whitney Houston na Shrine Auditorium & Expo Hall em LA. pic.twitter.com/8Om8sawPeM

— Beyoncé Brasil (@BeyonceBrasil) March 6, 2016