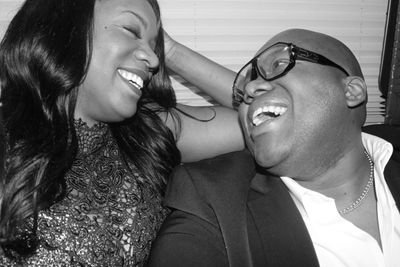 Celebrated vocalist Tanya Blount releases new music with Armed Forces veteran and Wounded Warrior husband Michael Trotter, Jr.  The duo have delivered a a powerful message that not only shows their support for Presidential hopeful Hillary Clinton, but is synonymous with the uplifting songs that have become their signature.
The inspiring new single, "Imagine…Hillary Clinton," offers a beautiful ode to community change, progress and togetherness. The touching ballad, written and performed by the married couple, also boldly proclaims support for Hillary Clinton as the next President of the United States.
Set to powerful footage of Clinton on the campaign trail, the single's lyric video is an appeal to envision the positive outcomes that are possible if a community and a nation puts aside differences and rallies together for the common good of humanity.
"What Hillary Clinton is doing for women and young girls around the world is giving them hope; allowing them to know that they will have equal rights if she is President in this nation," says Tonya Blount. While Michael adds, "Hillary Clinton is someone I totally believe has all of our best interests at heart."
"Through this song, we want to urge men, women and children to unite in imagining a world where differences are embraced," they explain further.
Tanya Blount, was featured in the film, Sister Act 2: Back in the Habit as the character "Tanya". In the film, she performed a duet of "His Eye Is on the Sparrow" with Lauryn Hill. Michael Trotter, Jr boasts a soothing, soulful voice, yet humble approach to the stage. Trotter is a veteran/wounded warrior who fought and served two tours in Iraq. Now performing together, this talented husband and wife duo have recorded a 14 song project that captures the magic of the ministry of marriage and the pure love shared between God and man. Appropriately entitled Love Affair, the project will take you on a journey to find your love for mankind and the love of God.
"Imagine…Hillary Clinton" is an adaptation of "Imagine," the first single from their Love Affair album, which is currently available at all digital music outlets. Listen to some of the music from Love Affair here, and watch their video below.
Find out more about Tanya Blount and Michael Trotter, Jr. at: www.trotterandblount.com and on Twitter and Instagram
For more information, contact Seven49Group, info@dreamchaserseries.com