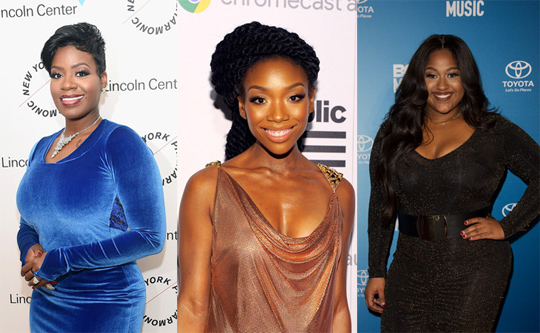 Remember when Brandy and Jazmine Sullivan were talking about collaborating? Well…it appears the vocal dream might be getting even bigger.
Taking to Instagram this week, Fantasia posted a photo of Brandy, praising the R&B songstress, and included an exciting bit of information, teasing the possibility of new music between the three vocal powerhouses.
"OMG!!! The call that I just Received from the only vocal I'm scared to hit a stage with, in Love with, crazy about and my BFF in my head @4everbrandy JUST CALLED ME and Lord I almost wrecked the car," she wrote. "Bran Thank You so much for your words of encouragement❤️ @jsullivanmusic @4everbrandy let's give the people this Song?"
Brandy reposted the photo and caption, adding a very promising hashtag, #FanJazzBran. In addition, she posted a photo of her own, of Jazmine and Fantasia, writing: "#Faves Thank you God for YOU in them! @jsullivanmusic and @tasiasword #TheGreatest I love you both so much????."
Jazmine and Brandy were recently seen together, also praising each other, at the BET Music Matters Grammy weekend showcase last month. They were already rumored to be in talks of recording some music, but add Fantasia into the mix and it's basically a dream come true for R&B fans everywhere.
Until we get official word we will just continue to sit here waiting….Let's all hit them up on their socials and encourage this to happen! #FanJazzBran