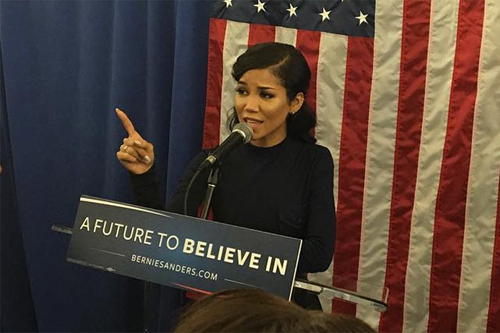 Jhené Aiko is feeling the Bern. Fresh off the release of TWENTY88's short film for "Out of Love," Jhené performed at presidential hopeful Bernie Sanders' "Community Conversation" event at the Apollo Theater in Harlem on Saturday.
For the unexpected performance the R&B songbird delivered a rousing set of favorites from her catalog, including an emotional, vibey version of "Space Jam," the breezy "W.A.Y.S." and one of her personal favorites "Eternal Sunshine."
Like many celebrities, Jhené is a proud Bernie supporter. She shared a photo of herself hugging Sanders and used the #BernieInHarlem and #FeelTheBern hashtags to urge her fans to vote. She and her girlfriends also started a different hashtag in support of the Sanders campaign: #babesforbernie2016.
The "Community Conversation" panel discussion also featured appearances from Spike Lee, Harry Belafonte, Erica Garner, and Nina Turner, with host Charlamagne Tha God.