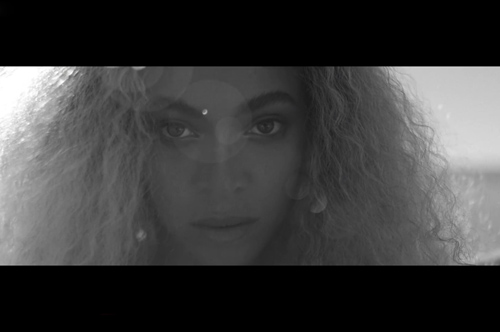 Beyoncé is really teasing us now…
After sharing just the short teaser on Saturday morning, Queen Bey returns Sunday night with an extended trailer for her mysterious visual project, "LEMONADE."
While the original 20-second clip only showed the singer wearing a large fur coat and leaning over a car, the new minute-long clip includes a collection of quick shots from what appear to be multiple videos, or different moments in a film.
In one scene, Bey looks to be wearing a wedding dress while you hear her whispering, "The past and the present merge, to meet us here." Some eerie shots follow before she asks, "Why can't you see me…you're the love of my life."
In another quick scene, she is seen walking down a street wearing a yellow dress swinging a baseball bat, with an explosion behind her. She then breaks a street camera, that says N.O.P.D., with the bat. The trailer ends with Beyoncé saying, "What am I doing my love… pull me in."
The "world premiere event" of her mysterious film is set for Saturday, April 23, at 9 p.m. EST on HBO.
We are hoping she might just drop the album the Friday before, but either way, Bey kicks off the "Formation World Tour" on April 27 at Marlins Park in Miami.
Check out the trailer for "LEMONADE" below!