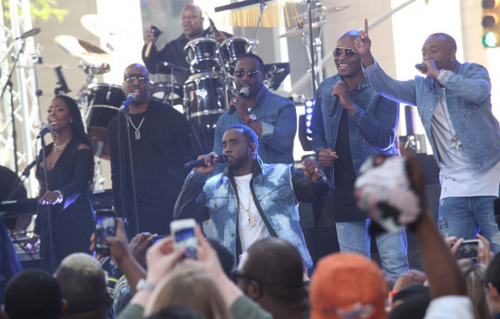 20 Years Bad Boy!!
Before their two-night Barclays celebration, Puff Daddy & The Family reunited in NYC's Rockefeller Plaza on Friday (May 20) to kick off "Today's" Summer Concert Series with a surprise-filled performance.
Diddy took the stage to "Bad Boy for Life" before Ma$e joined in for "Can't Nobody Hold Me Down" and "Feel So Good." Then, 112 arrived for "Peaches & Cream." Longtime Bad Boy affiliate (and birthday boy) Busta Rhymes also popped up, surprising fans with "Pass the Courvoisier, Part II."
Elsewhere, Diddy and Ma$e joined forces for the Notorious B.I.G.'s "Mo Money Mo Problems," a rendition that included a Biggie tribute. Finally, rounding things out, the Bad Boy ringleader launched into a solo performance of "Finna Get Loose."
As if that wasn't enough, Puff also teamed up with The LOX and Lil' Kim for a performance of their No Way Out classic "It's All About the Benjamins."
Catch all the performances below.