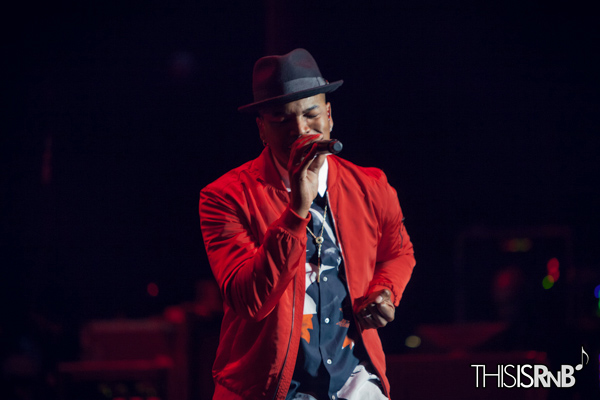 On Thursday night (May 5) The GRAMMYs launched their first ever "GRAMMY Park" live event at Kings Theatre in Brooklyn, New York. The opening night concert at the famed, recently re-opened theater featured R&B stars Ne-Yo and Jazmine Sullivan.
The renovated grand-old building is a spectacular venue for any show, but when R&B vocals bounce off the golden walls it's something innately special. The drinks and free candy were flowing, as thousands of guests found the way to their seats, and the incomparable @JSullivanMusic took the stage. Jaz's anointed voice is exceptional on it's own, but when backed by her full band, additional backup singers, and high definition screens to enhance the visual performance, there are few that can compete with the songstresses ability to captivate an audience. Since her return in 2015 with the critically acclaimed album Reality Show, the Philly girl has been consistently touring with her new material, and she put plenty on display this night. Performing cuts off the album like "Mascara," "Forever Don't Last," "Let It Burn," and "Masterpiece" the singer left all her emotions on the stage. However, one of the most touching and memorable moments was her tribute to Prince as she let her fluttering falsetto shine with a cover of the late legend's song "Adore." To close her exceptional performance Jazmine turned up the tempo as everyone rocked and bounced to her breakout single "Need U Bad."
The evening's headliner was none other than R&B hitmaker Ne-Yo, and when the first horns of his recent hit "She Knows" hit the speakers everyone knew it was time for a party. The singer/songwriter's catalog is one of the deepest in the game these days, and he can literally keep a crowd on their feet for a full hour, however Ne-Yo made sure to take us through various emotions as he ran through hits like "Miss Independent," "All Because Of You," "So Sick," "Champagne Life" and more, plus showed BK some love with his classic Fabolous-collaboration "Make Me Better."
He made sure to bring us all the way back to where he got his big break, penning Mario's massive hit "Let Me Love You," and brought us back up to date with favorites off his latest album, Non-Fiction, like "Congratulations," "Story Time" and the sexy slow jam "Religious."
Similar to Jazmine, Ne-Yo had to pay his respects to one of his greatest inspirations and an artist whom he respected greatly–Prince. As the lights dimmed all the way down, a clip of Prince's interview with Oprah played on the large screen, and the crowd let out a gasp of anticipation for the forthcoming special moment. Ne-Yo was clearly nervous to even attempt to cover The Purple One, as he told the crowd, "Man, I just pray that I can do this song justice. I love you, Prince. We miss you." He clearly did his best covering one of Prince's less mainstream songs, "The Beautiful Ones," off Purple Rain.
The "Sexy Love" singer was certainly in top form with a mission to make one of his musical fathers proud, like he was right there in the audience with the rest of us. The party continued as Ne-Yo led us into the night with his mega dance hits like "Give Me Everything," and he absolutely gave Brooklyn everything.
Check out our exclusive photos and footage below!
Ne-Yo Photos by Michael Mathis for ThisisRnB
Jazmine Photos via The Recording Academy