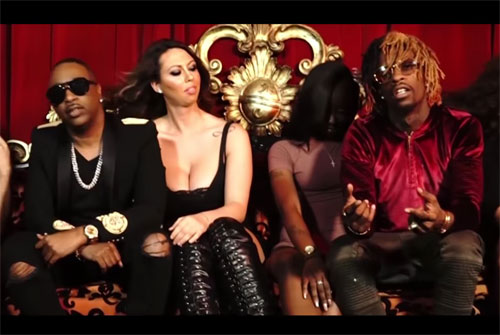 Slim (of 112) is nearly ready to deliver his sophomore solo album Refueled to the world, so to help you turn-up on your Friday, the golden-voiced R&B singer has unveiled the music video for his club single "Never Break Up" featuring Rich Homie Quan.
In the dark and sexy visuals Slim and Rich Homie enjoy the night life in a club filled with mysterious, masquerade mask-donning women with matching lingerie.
Over the bombastic production by Oddz & Endz, Slim assures his woman that it's him and her until the end.
"I know the sun is goin to shine, anytime that I'm with you / I know the clouds might get dark, but my heart I know that we'll get through, 'cause I'm with you," he sings after Quan's opening verse and before the track breaks down into a club ready banger.
In addition to Rich Homie, Refueled (due out May 13) includes features from Slim's former Bad Boy label-mates Ma$e and Carl Thomas. Slim says that Refueled will be, "A timeless, eclectic body of work that everyone from age 8 to 80 can positively relate to. Once you hit play you can let it go all the way until it ends!" Continuing, "My music is all about hip hop and R&B. What I bring to the music business is consistency. I bring solutions to love and relationship problems through spreading love and positivity."
Check out the video below, and if you pre-order Refueled on iTunes now you will receive 2 instant downloads.
REFUELED TRACKLIST:
01. Forever feat. Carl Thomas
02. Never Break Up feat. Rich Homie Quan
03. Killin' Em Girl feat. Ma$e
04. Truth Is
05. Drug
06. Take You Down
07. Hey You
08. Ain't Going Nowhere
09. Head In The Clouds
10. Ready To Fall