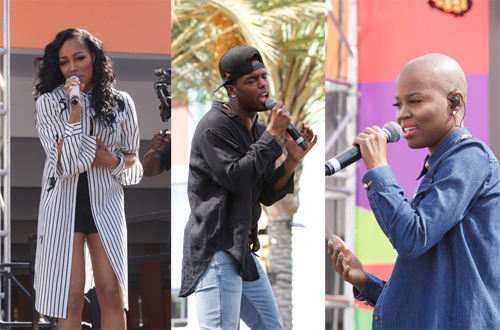 The 2016 BET Awards and BET Experience are less than a week away, but fans got an early treat this past Saturday with the BET Experience at L.A. Live Kick-Off Concert.
The outdoor show, held at The Baldwin Hills Crenshaw Promenade, featured showstopping performances by leading R&B singers Monica, V. Bozeman, Bilal, Luke James, and Tish Hyman. Over four thousands fans packed the area ready to party at the official pre-event celebration in Los Angeles.
Luke James kicked off the day with his hits including "Make Love to Me" and "I Want You." Next up was singer-songwriter and rapper, Tish Hyman, who had the crowd moving and grooving to "Subway Art" and "Four Letter Word." The gorgeous V. Bozeman then took over the mic with a number of her soulful jams, including "What Is Love," "Smile" and "Go." Bilal showed off his incredible range on "Back To Love," "I Really Don't Care" and "Soul Sista," leaving everyone in the audience in awe of his vocal power.
Even though it was one of the hottest days in recent months in Los Angeles, fans made sure they stayed around for GRAMMY Award-winning artist Monica's incredible headlining set. The crowd sung along with throwback hits "So Gone" and "Don't Take It Personal," and knew every word as she wrapped the day's festivities with her chart topping hit "Just Right for Me."
Check out the photos below.
(Photos by Earl Gibson/Getty Images)