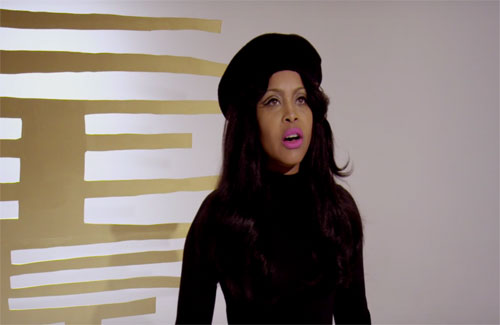 Longtime friends, collaborators and Grammy-winning musicians Erykah Badu and Robert Glasper have teamed up again for the track and video for "Maiysha (So Long)," from the album Everything's Beautiful–a visionary exploration of Miles Davis' music, featuring reimagined interpretations produced by Glasper. The track's lyrics were written by Badu, and were based on "Maiysha" by Davis.
The short film entitled "So Long…That's What She Said" was conceptualized, written and directed by Badu. In keeping with the song's deceptively humorous lyrics, the short is a somewhat satirical wink at the musical performances from the classic variety shows of the '50s and '60s. The video stars a neurotic, beatnik chanteuse named Sarah Bellam—one of Badu's many personas—with Glasper as her tormented keyboard player and lover. The video also features a cameo by acclaimed harmonicist Frédéric Yonnet as the trumpet player performing Miles Davis' solo.
Everything's Beautiful is out now and is part of Columbia/Legacy's commemoration of the globally renowned music innovator's 90th birthday. Released in late-May, the album debuted at #1 on Billboard's Jazz Album chart.
Check out the short film below.