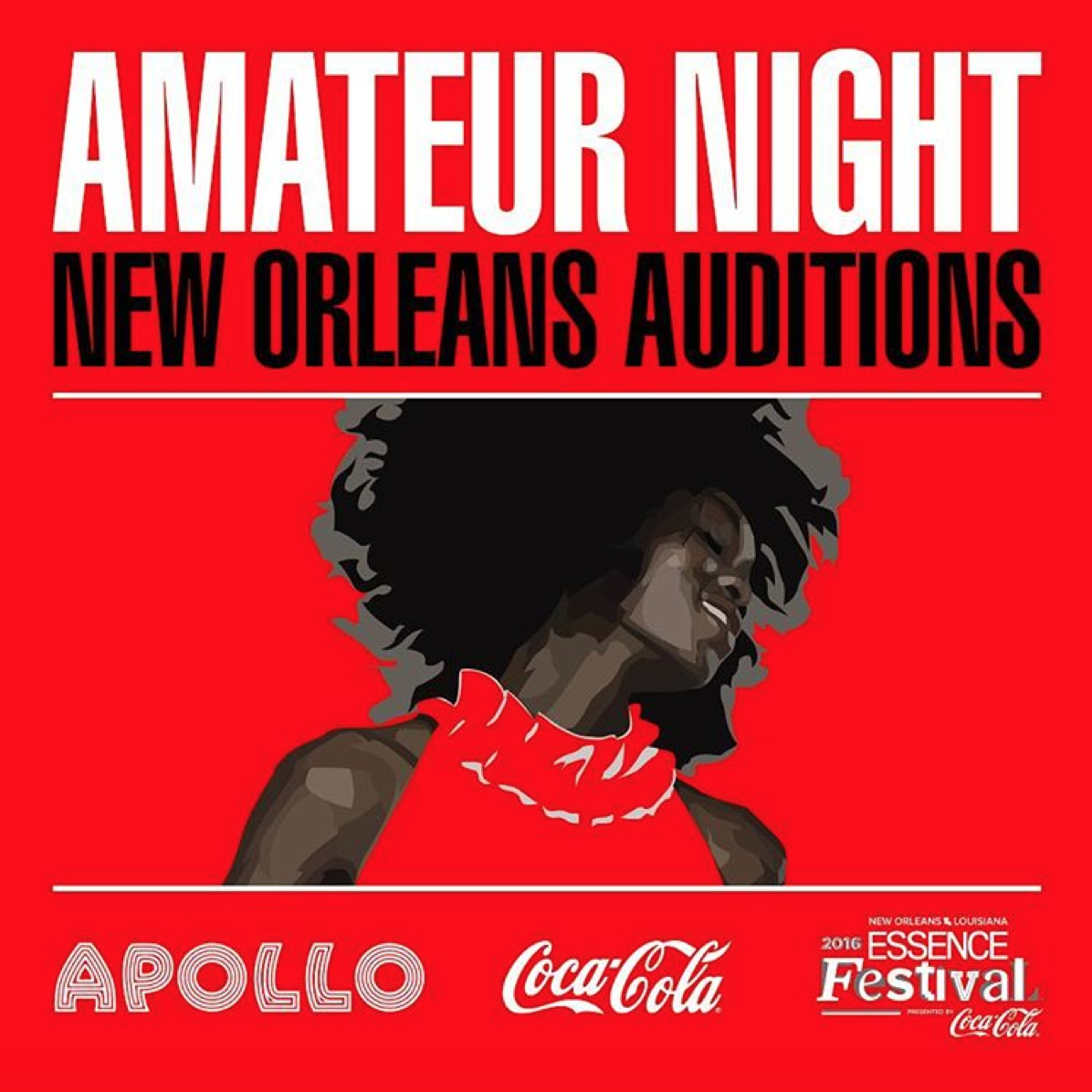 The World Famous Apollo Theater Wants to Make You a Star!
The producers behind the Apollo's signature Amateur Night Show are heading to New Orleans for the first time to find the next Apollo legend, in a national talent search for aspiring singers.
The first phase is set to take place during the ESSENCE Music Festival where finalists will audition for a chance to win the opportunity to perform on the ESSENCE Fest mainstage and the iconic Apollo stage in New York City!

The Apollo Theater announced today the major new initiative as part of its signature Amateur Night Show. The Apollo and Coca-Cola are presenting the national talent search for the next Apollo legend. This special Amateur Night competition will give up-and-coming vocalists the chance to win the opportunity to compete on the iconic Apollo stage. In a first for the legendary Theater, Amateur Night auditions will head to New Orleans where the first phase will commence with auditions at the popular ESSENCE Music Festival.
Auditions are set to take place on Friday, July 1, 2016 at the Ernest N. Morial Convention Center in room 217; from 9 a.m. to 6 p.m. Contestants selected from the auditions will advance to a semi-final round on Saturday, July 2 where two performers will be chosen to perform on the ESSENCE Music Festival mainstage at the Mercedes Superdome, that evening.
The second phase of the competition will take place online via the competition's website (www.ApolloMakingAStar.com), with online voting starting July 11 through August 5, 2016. In total, five contestants will be chosen to compete at the world famous Apollo Theater for a special edition of Amateur Night on Wednesday, September 21, 2016. Contestants chosen will receive an all-expense paid trip to New York City.
PHASE ONE AUDITIONS
Friday, July 1, 2016
Ernest N. Convention Center
900 Convention Center Blvd.
2nd Floor, Room 217
New Orleans, LA 70130
-Auditions will be conducted by Amateur Night Producers.
-Audition times will be from 9a to 6p. Only the first 300 acts will be seen.
-The top singers selected by producers will be asked to come back the next day.
PHASE TWO AUDITIONS
Monday, July 11 – Friday, August 5, 2016
Online Voting at www.ApolloMakingAStar.com.
-Potential contestants can upload their videos beginning Monday July 11 through Friday, August 5.
-Online voting will take place simultaneously with online submissions during the same time period.
AUDITION ELIGIBILITY AND GUIDELINES
Auditions are open to SINGERS ONLY ages 18 and older throughout the continental U.S. Those chosen from the audition will have the chance to perform and compete on the legendary stage during the September 21st Amateur Night at the world-famous Apollo Theater in New York City.
-Auditions are open to amateurs (an amateur is anyone who does not have a contract with a major label or studio).
-Contestants must be 18 or older
-For live auditions contestants will have up to 90 seconds to audition.
-There will not be a band on site during Auditions. Singers may bring a CD or perform a cappella.
-If bringing a CD for the audition, it cannot be in CD-RW format.
-All auditions should be in good taste and with no profanity (including the "N" word).
-No lip synching, singing along with track vocals or post-production engineering of vocals is permitted.
-All contestants must be available to travel to New York City from September 19-21, 2016.
Visit www.apollotheater.org for further details.