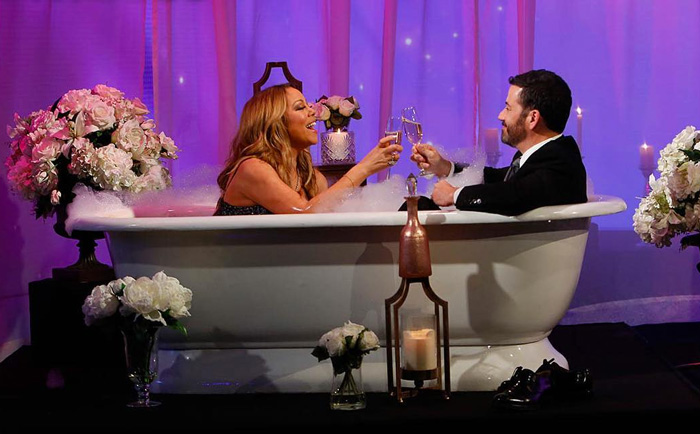 Mariah Carey never seems to do things the simple way, and that was made clear during her visit to "Jimmy Kimmel Live!" on Thursday night.
The iconic singer was a good sport and joined the late-night host—both fully dressed–inside a bubble bath! Glittery dress and all, Mimi seemed to enjoy the special treatment, drinking champagne, and being served grapes by two shirtless men. During their conversation, the two discussed her show in Las Vegas, and if she will get married in Sin City.
In addition, being that it was the NBA Finals special edition show, Mariah talked about her lack of knowledge in sports. "Ever since I was in school I was always a fast runner, but I could never follow the rules of sports. I just didn't understand, like, 'Why do we have to kick it in this goal? Isn't that just as good?' I didn't understand it and I still don't."
Mariah went on to talk about singing for Michael Jordan, and making a dress out of a jersey he gave her. Fans can catch the diva on stage once again in Las Vegas, when her residency resumes on June 7.
Watch the unique interview below.