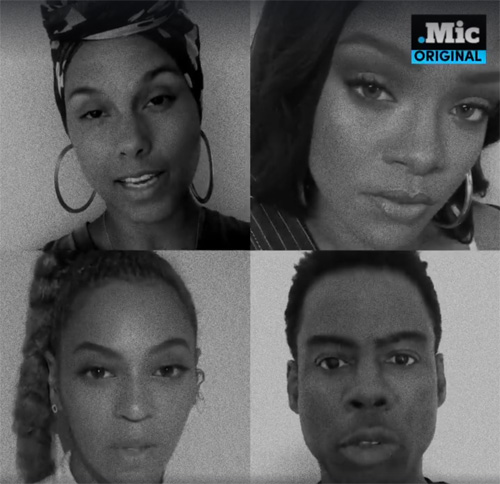 Many of music's biggest artists have participated in Mic's new campaign "23 Ways You Could Be Killed If You Are Black In America," to use their voices in support of the many black Americans who've lost their lives due to racially-motivated biases.
One by one, artists such as Alicia Keys, Beyoncé, Jennifer Hudson, Maxwell, Pharrell, Adam Levine, Bono, Janelle Monáe, Pink, Queen Latifah, Common, Swizz Beatz, Lenny Kravitz, ASAP Rocky, and more list the everyday, mundane things that victims were doing at the time that they were killed.
Non-music celebs who also participated in the video are Chris Rock, Taraji P. Henson, Kevin Hart, Jada Pinkett-Smith, Tracee Ellis-Ross, and more.
It's all for a petition at WeAreHereMovement.com to demand the government take action for a "radical change to heal a long history of systemic racism."
Watch the PSA below and sign the petition at the link above.