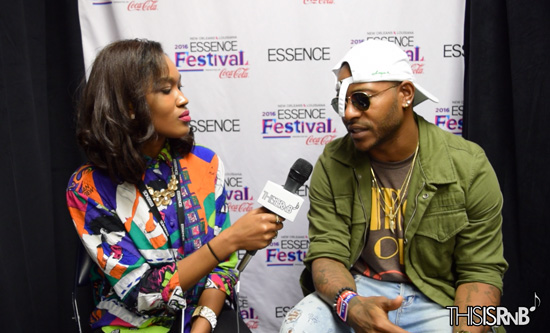 Eric Bellinger brought some Cali swag to New Orleans during the 2016 ESSENCE Festival earlier this month. After performing in the "Art of Hip-Hop Superlounge" on Friday (July 1), the singer/songwriter met up with ThisisRnB's own Ni'Kesia Pannell for a backstage interview on Day 2.
Letting us in on his first ever visit to NOLA and the ESSENCE Fest, Eric spoke about the realness of the community and how everyone is just there to enjoy great music and support R&B. Getting into his own new music, Bellinger talked about working with Pharrell on a session with his recent frequent collaborator, Wale, and connecting with Scott Storch on some new records. But what we really wanted to know about is how his self-titled album is coming along. The R&B singer spoke about why he is taking his time with the album, and how he doesn't plan to release it until he's certain that it's a classic.
In addition to the new music, Eric gave us his definition of "#BlackGirlMagic," which he of course explained he has full witness to, through his wife, La'Myia. He also answered the question that Ni'Kesia was asking everyone she spoke with during ESSENCE Fest, which was: If you had to pick the President and Vice President from today's R&B artists, who would it be and why? Check out Eric's answer to that, as well as hear who his perfect all-star collaboration would be, below!