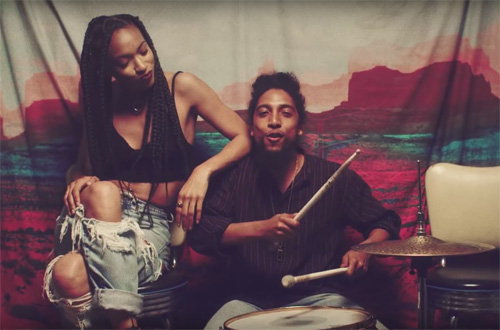 Miguel has released a couple new records recently, including the smooth "Come Through and Chill," but he is also using his Art Dealer Chic brand to introduce some new talent. Keeping it in house, as in-house can go, the R&B maverick has released a new song and video from his brother, who goes by the artist name Nonchalant Savant.
Unexpectedly refreshing the groovy singer serves up some chill vibrations of his own, with the video for "Mixed Signals." Late night LA house party scenes play out from room to room, as Savant's sluggishly intoxicating vocals elicit a magnetic draw, while he plays various instruments and instructs his girl to come closer.
"Before you can even get into the music, everything is fundamentally about the exchange of energy," Savant told The FADER. "I wanted the video for 'Mixed Signals' to prepare you with the right kinds. Whatever it is that I do, I do my best to make it groovy for you, and I think this piece does a good job of capturing and converting that vibration, visually."
That, we would have to agree with.
Check out the video below.