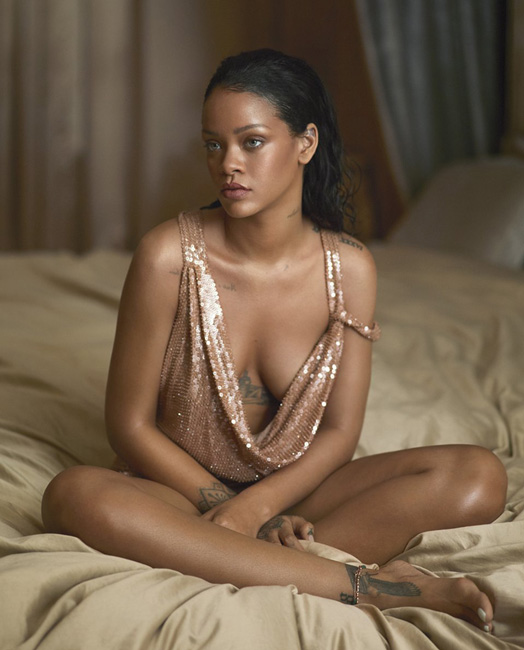 Have you seen "Bates Motel" on A&E yet? Well if not, you might want to catch up!
The hit thriller, based on the characters of Alfred Hitchcocks groundbreaking 1960 film Pyscho, is getting some major star power behind it's upcoming farewell season.
Announced on Twitter, Rihanna revealed to fans that she will be joining the series' fifth and final season. The international superstar is set to take on the role of Marion Crane, the famous character played by Janet Leigh in Psycho.
Rihanna announced the news with a surprise video at Comic-Con. "It's your girl RiRi," she said in the clip. "Let me tell you what a bad bitch is about to do. I am about to check into the 'Bates Motel' very soon. Guess what else? Guess who's playing Marion?"
Executive producers Carlton Cuse and Kerry Ehrin were thrilled to announce the news too.
"We wanted to thrust the iconic role into a contemporary spotlight and redefine it in a meaningful and exciting new way," the execs said in a statement. "We also heard Rihanna was a fan of the show, and we were huge fans of hers, so it was the perfect collision of creativity and fate."
The fifth season of "Bates Motel" will start production in Vancouver in the fall and it's scheduled to air in 2017.
Rihanna's acting doesn't stop there. She's also set to appear in Valerian and the City of a Thousand Planets alongside stars like Cara Delevingne, Ethan Hawke, and Dane DeHaan.
While at Comic-Con too, DeHaan spoke about his work with RiRi. "Rihanna's part is so crazy, it's so awesome," he said. "I worked with her the first two weeks of the shoot and whenever I told anybody what I was going to be doing, their jaws were on the floor and they were so jealous. And that's all I can say."
.@rihanna to check into #BatesMotel as Marion Crane in the 5th and final season!https://t.co/7t2pRL43cf

— Bates Motel on A&E (@InsideBates) July 22, 2016