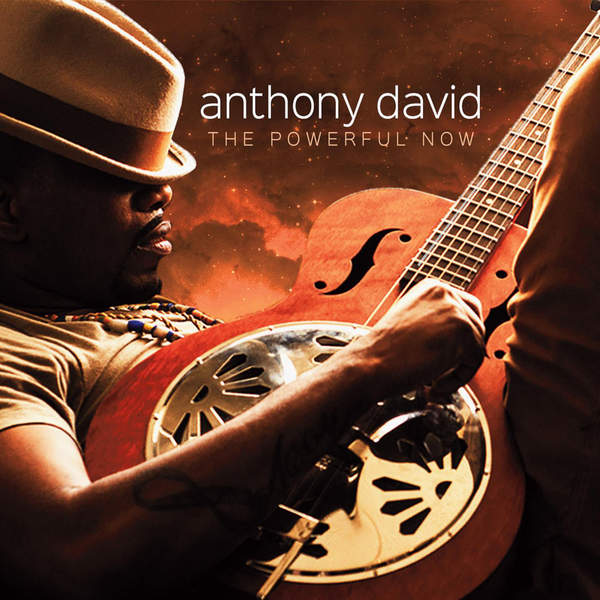 Anthony David's honey coated tenor lures you into a hypnotic hold with undeniable desire. Coupled with his eclectic melodies, you're bound to have an instant eargasm.
On his fifth studio album, The Powerful Now, the Grammy award-nominated singer/songwriter delivers his unique brand of blues, funk, rock and soul—with a bit of EDM. Featuring superb production by Shannon Sanders and Eddie "Gypsy" Stokes, The Powerful Now is David's first release on Shanachie Entertainment. It's a sonic testimony of next-level evolution.
"This album I thought of as if I had no other album," Anthony notes. "I didn't have many expectations. So any idea I had that I might have thought 'oh, they may not like that from me,' I did it anyway!  I definitely wanted to work with the sounds that are current but in my own way. I'm in the soul vein and I don't mind the title of neo-soul; it conflicts with what's popular in black music right now, which is either way ratchet or super retro. I have no interest in having all these sounds available and making something that sounds exactly like the 70s.  But I also don't want to purposely make noise which some things I hear seem to be doing in attempt to being progressive."

The Powerful Now opens with David's signature storytelling on the gritty and rambling "Ride On," an ode to the crafty hustler mentality. "Rock bottom, tired of mama cryin', baby girl barely knows his name / Man up, you can't blame the system when you know it's part of the game / You've got to use all the gifts you've been given at the end of the day." Up next is the title track, emitting a liberating vibe. An appropriate theme for embracing the present as the past is transcended. David sounds at peace with life as he sings, "'Cause the past is gone and the future has yet to come / If you think too long, time has already moved on … so relax and allow it to be … this is the one and only moment that matters."
Although the Gulf War vet is no stranger to melancholic grooves, the lead single, "Beautiful Problem" stands out on the album for its echoing background vocals and solemn piano surrounded by staunch bass. It's a true statement about dealing with the ebb and flow of life.
Showcasing his versatility, David is carefree and ready to enjoy some good lovin' on the whimsical "Booed Up." He's accompanied by Mylah, a sweet sounding starlet with a pleasant lilt.  The pulsating, "I Don't Mind" introduces us to his affinity for Afrobeat, as he teases those who want to be with his lady. Returning to romantic undertones, "Amber" is a charming serenade, followed by the gritty and guitar laced jam, "Out Of My League."  On the bluesy and upbeat "Road to Baxley," David shouts out his southern roots, honoring the elements of southern living.  Slowing down the tempo is the soothing "Ayodele," the jazzy and wistful "Never Again" (featuring Reesa Renee) and the sensual "Charge." This enchanting ballad is a highlight of the album with guest vocals by Carmen Rogers. The pair elicit a vulnerable devotion to love, as she sings, "I grant your wish / You blow a kiss / Our hearts dismiss all the loving we missed / No truth, no lies, we both recognize the look in my eyes / I'm so high, can't deny."
The Powerful Now closes with the empowering "Inevitable," an anthem for resilient go-getters who strive to thrive despite obstacles. David disses fear and doubt. "You're only making me work harder / That means I'm only getting better / And I'm only getting stronger, it's inevitable … taking my time and working smarter … it's okay if it takes a little longer—it's inevitable." This is the masculine complement to friend and frequent collaborator India.Arie's "Strength, Courage and Wisdom."
The Powerful Now embodies Anthony David's finest and most wide-ranging body of work to date. He's secure in his creativity with no regrets.
Stream Anthony David's latest opus via Spotify below. You can also pick it up on iTunes or all digital retailers now.
–Words by Raquelle Harris