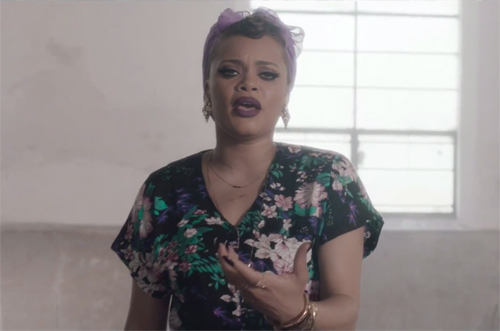 The 2016 remake of the classic Charlton Heston chariot race film Ben-Hur is due out later this month, and R&B singer Andra Day has lent her talents to the film's official soundtrack. Day's contribution is a bluesy number entitled "The Only Way Out." Now, Andra Day has given the single a music video to match.
Myriam Santos directs the "The Only Way Out" visuals, depicting the gorgeous Day adorned in purple hues in an abandoned church while also sharing clips from the upcoming film. Day's voice is powerful enough as it is, but seeing her rock and sway in the church adds more weight and emotion to "The Only Way Out's" lyrics about choosing mercy over revenge.
Watch Andra Day's "The Only Way Out" music video below. Ben-Hur – which co-stars Morgan Freeman – releases in theaters August 19th.
–Words by Bradford Howard