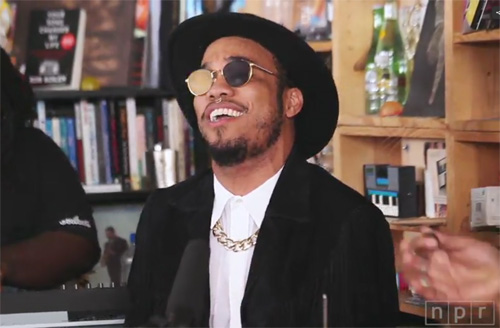 The enigma that is the vastly talented Anderson .Paak took a moment from his heavy touring schedule to visit NPR's home office in Washington, D.C. and perform for their infamous 'Tiny Desk' concert series.
The varying styles and genres that Paak and his band The Free Nationals undertake is a sound all it's own in today's often unoriginal world of music. Oozing with soul and funk over hip hop production, the singer/rapper/musician opened at the drums with Malibu favorite "Come Down."
Smoothing the moment down right away with the jazzy, R&B groove, "Heart Don't Stand A Chance," the invited guests made the experience one that should easily go down as a Tiny Desk classic. The remaining set included "Put Me Thru," and a stripped down rendition of NxWorries' (Knxwledge & Anderson.Paak) "Suede."
Press play below, and enjoy!